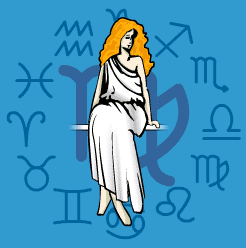 Virgo
August 24 - September 23
---
Today's Horoscope for Wednesday December 19th
Sharing your deeper emotions won't be easy. There is safety and security in numbers for you so you are aiming for a wide social circle, rather than exclusive twosomes. You want to have an escape route handy for when boredom sets in. Perhaps you feel that loved ones are unappreciative, so you have to spoil yourself. You will also avoid arguments since you really can't be bothered with hassle, but you could end up not standing up for yourself enough.
The Weekly Outlook from 17th December
Mars in aspect to Pluto is about transformation, but usually you can't see it until the influence is out of the way. Then you look back and think, "Well, one situation is better than it was." But you've got to be clear what you're trying to achieve. Later in the week you won't worry about voicing your feelings. More than anything what you want is to be applauded, so you'll be hamming it up madly, but so charmingly everyone will clap harder.
Your Monthly Horoscope for December
Having slowed down your recent busy schedule, you'll be luxuriating in quiet, indulgent moments at home or in familiar surroundings. You'll grab the chance of time for reflection to get perspective on events earlier in the year. Close partners will be speeding along and not always patient so you'll need to keep the peace. Though frankly you will duck and dive to avoid getting dragged into situations which are not of your making. Luckily everyday mates at work and in the neighbourhood will be appreciative and make you feel loved and wanted. There'll be charming encounters and fun conversations along the way as you smooth round rough edges and make yourself popular. Talking over domestic matters and having heart-to-heart chats with those close after the 12th will ease tensions. And by the 20th you'll be struck by a brilliant inspiration which will provide a solution to both cash and emotional concerns. Then in the final days you'll be off to play in a sociable and entertaining few days.
and Next Month's Horoscope for January
You may be overly serious as the New Year turns, determined to resolve confidential problems, financial and emotional and asking yourself probing questions about fundamental matters. What riles you is that you should be having fun, kicking up your heels and attracting attention. But those close will be demanding and breathing excitement into your social life will feel like hard work. Content yourself with plotting and planning how to attract more affection and enjoyment in coming months. Be persevering. Loved ones won't always be on your wavelength but there's no sense in hanging on too tightly. Handle your love life with a light touch, even if it takes an effort. There'll be chances to relax at home and snuggle down in familiar surroundings. You'll contemplate sprucing up the decoration to give you a lift. In the final days you'll be settling into a sensible practical rhythm, cracking on through the chores and staying fit. Good news will come about one family or domestic matter.
Year Ahead 2019
The good news is you'll feel happier at home, more content within yourself and be contemplating how best to improve your domestic set up. Relationships within the wider family will be easier as well with a generally hopeful mood about sharing ideals and hopes for the future. Which isn't to say you won't feel weighed down at times by the responsibilities that loved ones are landing on you. There'll be less time and energy for kicking up your heels socially. But that doesn't mean you shouldn't try to inject more adventure into your leisure activities and demand more attention for yourself. Your heart will yearn for more exciting trips and travel so make the effort to move out of your comfort zone once in a while. You'll be exploring new ideas and belief systems and opening your mind to a new view of the world. If those close scoff at your unconventional interests you won't care. April to June will find you battling ambitiously ahead, determined to make your mark and gain recognition for your talents. Though it'll be all too tempting to withdraw into your intimate surroundings and stay in your comfortable shell. After mid-year, you'll gear yourself up to sort out a long-term plans that gives you sensible goals to aim for and a practical strategy for making it work. A wider circle of friends will be around to keep you company and offer advice. In general you'll need to manage your finances with an eye to prevailing circumstances which won't be favourable for anyone. Tightening your belt and cutting out extravagances will boost your security and give you peace of mind. From December you'll move into a more buoyant, enthusiastic, sociable and confident phase which augurs well for 2020.