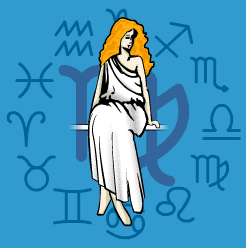 Virgo
August 24 - September 23
---
Today's Horoscope for Sunday November 17th
Good food, beautiful clothes and house are all important to your sense of well-being. Though too watch you are not being too indulgent in your approach since that could throw your budget off balance. No one will distract you once you know where you are aiming. But it's not a good idea to make up your mind instantly about one plan until you've had a chance to discuss it trusted friends and companions. You will pick up helpful hints.
The Weekly Outlook from 11th November
All you'll want is get out of a rut and broaden your horizons. But needs must, that the details of everyday life are attended to at the same time. Try to see the big picture without losing sight of vital details. You will feel like riding into top gear flying the banner of your pet causes. But watch that you do not fly ahead too fast. If you are around sporting or physical activities have a care that you are not taking risks. Not that you will be accident-prone, but you could just think you are capable of more than you are.
Your Monthly Horoscope for November
Kicking starting your personal finances will be one priority and that means putting effort into improving your income or reorganising what you have more sensibly. As well as not spending to impress which could be a temptation. You'll also be racing around at high speed, chattering as you go with plenty of chats, visits and projects to keep boredom at bay. Make sure you write out to-do lists otherwise you'll get muddled. Taking time out to put your feet up at home will be a blessing. While you recline in your favourite armchair you'll ponder on how best to spruce up the decoration since you'll want beauty, colour and elegance around. Before mid month you'll know exactly what you want to do. An exceptionally busy final ten days will find you focussing on domestic matters and the family and speaking your mind vigorously. You won't have the chance to slow down and be diplomatic so loved ones will need to take you as they find you.
and Next Month's Horoscope for December
Much as you would love to tuck yourself away at home and snuggle down into a quiet corner, you'll be continually pulled out onto the party scene. So you'll need to divide your time and attention between domestic matters and allowing yourself the chance to shine. Putting down roots and finding time for heart to heart chats with the family will be your priority as well as taking a deep breath and finding time to reflect. Getting a perspective on recent events will help settle your mind. But for all that your self-confidence will soar so you won't be hiding away and will be demanding more attention in an amiable way which will have friends and social mates rallying round. Jupiter will stay in Capricorn for a year ahead and gradually you'll discover as you put a higher value on yourself, so does everyone else. That will help not just in your leisure hours but also at work. One close partner will have a moment's uncertainty around the 8th so may not be available for support. But there'll be new friends and more fun mid month, and more in the final days. The Solar Eclipse is a hint that you need to keep up your more outgoing mood for a few months ahead. Be bold and push yourself forward.
Year Ahead 2019
The good news is you'll feel happier at home, more content within yourself and be contemplating how best to improve your domestic set up. Relationships within the wider family will be easier as well with a generally hopeful mood about sharing ideals and hopes for the future. Which isn't to say you won't feel weighed down at times by the responsibilities that loved ones are landing on you. There'll be less time and energy for kicking up your heels socially. But that doesn't mean you shouldn't try to inject more adventure into your leisure activities and demand more attention for yourself. Your heart will yearn for more exciting trips and travel so make the effort to move out of your comfort zone once in a while. You'll be exploring new ideas and belief systems and opening your mind to a new view of the world. If those close scoff at your unconventional interests you won't care. April to June will find you battling ambitiously ahead, determined to make your mark and gain recognition for your talents. Though it'll be all too tempting to withdraw into your intimate surroundings and stay in your comfortable shell. After mid-year, you'll gear yourself up to sort out a long-term plans that gives you sensible goals to aim for and a practical strategy for making it work. A wider circle of friends will be around to keep you company and offer advice. In general you'll need to manage your finances with an eye to prevailing circumstances which won't be favourable for anyone. Tightening your belt and cutting out extravagances will boost your security and give you peace of mind. From December you'll move into a more buoyant, enthusiastic, sociable and confident phase which augurs well for 2020.