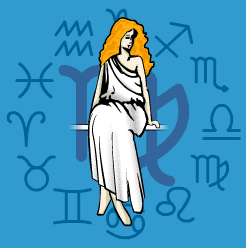 Virgo
August 24 - September 23
---
Today's Horoscope for Sunday May 26th
You have had recently a time of making decisions on your own, but now you are happy to submerge your stronger feelings in group situations. Your enthusiasm will be catching amongst companions so they should rally round. Aim for togetherness, for keeping things harmonious, and you'll find by the end of the day that you're glad you did because relationships will have improved a lot. Just ignore any niggling worries you have about close partners since it may just be your imagination.
The Weekly Outlook from 20th May
You may be gaining success at work now, though somehow you think that others are claiming credit for your achievements. You are in a very adventurous, challenging, lively kind of mood. The sensible thing is not to react so wildly, or lash out too blindly against restrictions and authority figures that you turn your working life on its head. Then it will take you a long time to rebuild these relationships on the far side of this weeks' mood.
Your Monthly Horoscope for May
An earthy Taurus Moon will pitch your sights higher and lead you towards more adventurous plans. You won't want to be stuck in a rut doing the same old-same old, but will be venturing into the odd risk to waken up your life. This is a time to think big, speak confidently and broaden your horizons however you can. Your ambitions will also be on display since you've no intention of being outwitted or outdone by anyone. You'll work hard, put your foot down about others doing the same and be keen to see tangible results for your efforts. Just don't get carried away in the first week with the notion you can achieve everything at once. Going steadily will produce better results over the longer term. After mid month you'll be emotionally less intense and less secretive and more inclined to share with friends and team matters. Joint efforts will zing along and you'll be rewarded with praise and recognition from the right people. A high profile, hard working final ten days will find you sailing along in good spirits.
and Next Month's Horoscope for June
Always a hard worker, you often shy away from the spotlight, but this is no time to be a shrinking violet. Take your courage in both hands and step out boldly to demand appreciation for your achievement and talents. You'll need to put in the effort but you will be able to take the lead and get others following behind. This is your chance to shine centre stage so don't throw it away. Your charms won't go unnoticed in the right places and flattery will get you almost everywhere. Invitations will come in for special occasions allowing you the chance to sparkle. Certain friendships will be going through a testing phase with some differences of opinion or approach. Try not to blow tensions out of proportion. You will be feeling fairly put upon and over burdened but it's not a great idea to burn your bridges behind you. In the final week you'll ease off and reach out to connect again.
Year Ahead 2019
The good news is you'll feel happier at home, more content within yourself and be contemplating how best to improve your domestic set up. Relationships within the wider family will be easier as well with a generally hopeful mood about sharing ideals and hopes for the future. Which isn't to say you won't feel weighed down at times by the responsibilities that loved ones are landing on you. There'll be less time and energy for kicking up your heels socially. But that doesn't mean you shouldn't try to inject more adventure into your leisure activities and demand more attention for yourself. Your heart will yearn for more exciting trips and travel so make the effort to move out of your comfort zone once in a while. You'll be exploring new ideas and belief systems and opening your mind to a new view of the world. If those close scoff at your unconventional interests you won't care. April to June will find you battling ambitiously ahead, determined to make your mark and gain recognition for your talents. Though it'll be all too tempting to withdraw into your intimate surroundings and stay in your comfortable shell. After mid-year, you'll gear yourself up to sort out a long-term plans that gives you sensible goals to aim for and a practical strategy for making it work. A wider circle of friends will be around to keep you company and offer advice. In general you'll need to manage your finances with an eye to prevailing circumstances which won't be favourable for anyone. Tightening your belt and cutting out extravagances will boost your security and give you peace of mind. From December you'll move into a more buoyant, enthusiastic, sociable and confident phase which augurs well for 2020.