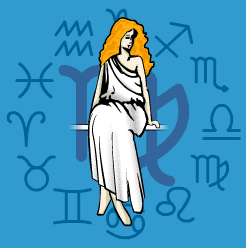 Virgo
August 24 - September 23
---
Today's Horoscope for Friday July 19th
Get your original ideas out into the world. You can make a difference by what you say, and perhaps motivate companions out of their ruts. You have a sharp mind now with Mercury in the inventive area of your chart. Remember to write things down since you can be absent-minded, forgetting your inspirations as soon as you have them. Don't go leaping into a situation too emotionally and then find you don't really want to see it through to the end.
The Weekly Outlook from 15th July
Pluto around now is beginning to make you examine what is no longer necessary in your life. Nothing lasts for ever in the same form. You need to see what has passed its sell-by date, and let it go. Though life can't all be serious. Balancing the needs of the future with your instant desire for fun is part of the message of this week's Lunar Eclipse. So you will need to find a way that allows you to have your cake and eat it at the same time.
Your Monthly Horoscope for July
A great worrier and perfectionist you often get yourself bogged down in the moment. But what the Cancer Solar Eclipse is firmly hinting is that you need to look ahead and set plans for the longer term. You'll be widening your circle of friends and making connections with new acquaintances which will help to attract advice and new ideas your way. Not much can be actioned immediately since Mars is tucked away for the next six weeks, so you'll have time to prepare and ponder and pull strings behind the scenes. Don't think of it as wasted time. It'll give you a chance to refine your chosen schemes so when the red lights turn to green you can be off at speed knowing you've thought everything through carefully. Your popularity and knack of making everyone you meet feel special will keep the invitations pouring in. Though at times you'll feel weighed down by responsibilities and loved ones' demands. Do as much as you are able and then put down a few limits. You will feel like being rebellious so it may free you up to suit yourself when you've had too many demands landed on you.
and Next Month's Horoscope for August
Never one to push yourself forward, you'll be content to amble along letting others take the glory and do the running around for three weeks. This is your time in the year to step back, do less and find time for reflection and planning. You won't be overly sociable but will be getting in touch with your deeper feelings in quiet moments. Contented within yourself, you'll be happy to wait for your more ambitious plans to come to fruition. You'll be pondering on ways to improve your domestic set up by giving yourself more space. Family relationships should be purring along more harmoniously than for a while. Then after mid month your engine will start to rev and you'll be off, pushing obstacles to one side and allowing nothing to slow you down. Luckily you'll be able to stay tactful as well as energetic so shouldn't ruffle too many feathers. You'll be opening your eyes to new ways of looking at the universe and being open minded about other beliefs.
Year Ahead 2019
The good news is you'll feel happier at home, more content within yourself and be contemplating how best to improve your domestic set up. Relationships within the wider family will be easier as well with a generally hopeful mood about sharing ideals and hopes for the future. Which isn't to say you won't feel weighed down at times by the responsibilities that loved ones are landing on you. There'll be less time and energy for kicking up your heels socially. But that doesn't mean you shouldn't try to inject more adventure into your leisure activities and demand more attention for yourself. Your heart will yearn for more exciting trips and travel so make the effort to move out of your comfort zone once in a while. You'll be exploring new ideas and belief systems and opening your mind to a new view of the world. If those close scoff at your unconventional interests you won't care. April to June will find you battling ambitiously ahead, determined to make your mark and gain recognition for your talents. Though it'll be all too tempting to withdraw into your intimate surroundings and stay in your comfortable shell. After mid-year, you'll gear yourself up to sort out a long-term plans that gives you sensible goals to aim for and a practical strategy for making it work. A wider circle of friends will be around to keep you company and offer advice. In general you'll need to manage your finances with an eye to prevailing circumstances which won't be favourable for anyone. Tightening your belt and cutting out extravagances will boost your security and give you peace of mind. From December you'll move into a more buoyant, enthusiastic, sociable and confident phase which augurs well for 2020.