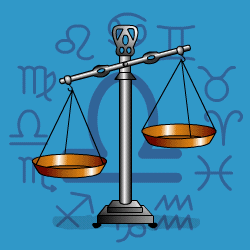 Libra
September 24 - October 22
---
Today's Horoscope for Thursday July 18th
Try not to put people on pedestals. You can become disappointed if you expect miracles from other people, which might just happen with the influences that are around. If you can be realistic as well as forgiving then you could find one encounter turns out to be rather delightful. If you aim at work for success, glory and boosting your ego, then it doesn't work well. If you work in a spirit of service to others, it all turns out rather brilliantly.
The Weekly Outlook from 15th July
If you're willing to learn from life then you'll make significant progress. You need to be secure enough to take feedback from others and see where you could alter course in your behaviour or your attitudes. The Lunar Eclipse is hinting that you need to draw back from too much work to consider your feelings more. You cannot allow your head to over-rule everything and forget your heart. Slow down and enjoy being instead of constant doing.
Your Monthly Horoscope for July
This will be an important month for you with the Solar Eclipse at your midheaven, very much a time to put self-doubt to one side and showcase your talents and achievements. Be bold and demand appreciation and respect. It'll take courage and effort but the results will be worthwhile. Hiding away in a corner won't pay dividends. Luckily you'll have strong team support from energetic friends who will rally round with support and motivation, ensuring you aren't waiting on luck to do it for you. Your social status will rise with compliments coming your way and invitations to rather special events giving you a chance to sparkle. There will be a few sticky practical or emotional matters requiring your attention at home or within the family just before mid month. Be straightforward but not too critical or possessive. You will have to spread your attention in several directions, balancing up the needs of your head and your heart. And will at times feel inclined to throw everything up in the air and not be so hemmed in. But over reacting won't help. Friends will be offering affectionate support in the final days.
and Next Month's Horoscope for August
Always a sociable sign, you'll be especially delighted to be surrounded by friends galore. It may not be romantic but it will be great fun as you'll find a welcome mat rolled out whenever you feel inclined to go visiting. Your knack of making everyone in a group feel special will do wonders for your popularity. So you'll be chatting happily and looking ahead with high hopes, sorting out your plans for the next twelve months. With enthusiastic support from work colleagues and everyday mates, you'll be speeding along. The more you can pack into the first three weeks the better since you'll be slowing down from the 18th onwards as circumstances dictate that you need to step back and let others take up the running for a few weeks. You'll be better to spend time reflecting, planning and preparing than trying to be too pro-active.
Year Ahead 2019
Your everyday routines will be lively, enthusiastic and filled with fun encounters and new opportunities. Always a communicative sign, you\'ll excel yourself at putting your views across with a positive slant that brings favourable responses. You\'ll be more open-minded and find that by broadening your perspective luck comes your way. So you won\'t be holding yourself back. Your first priority early on will be to tackle home and family matters. It\'ll take effort and persistence but you\'ll know changes need to be made to bring you the security you want ahead. There may be tensions surfacing as old unresolved emotional issues come into the open. See the benefits of having a chance to sort them out once and for all, having given them a good airing. There may be minor tugs of war since not everyone in your close circle will have the same ideas about how to move ahead, so you\'ll have to be subtle and strategic. Being confrontational won\'t work. Finding time for friends and entertainment will also be on your agenda with the Leo Lunar Eclipse in late January pointing the way towards more sociable activities. Keeping a watchful eye on finances especially where you share joint responsibility with others - mortgages, credit cards, revenue etc - will be important with Uranus causing a few roller coaster moments. There\'ll be more comings and goings than usual which isn\'t necessarily a disaster, just that you need to save when there is surplus. From mid year you\'ll switch your attention to your career or community activities and take the initiative to ensure you are getting the recognition that your talents and achievements deserve. You will be distracted by emotional ties but try to keep your focus steady. By late in the year you\'ll be settling down in your own cosy nest and feeling contented within yourself.