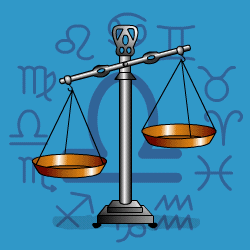 Libra
September 24 - October 22
---
Today's Horoscope for Monday October 26th
You'll get edgy about carelessness in workmates or those you handle money with. If you can keep putting them straight without sounding nit-picky you'll get better results. You will, in any event, have to put aside your wishes to ensure that everyone else gets what they want. Just polish your halo and console yourself that being of service to others will give you reassurance and your rewards will come in the days ahead, when more support is on offer.
The Weekly Outlook from 26th October
Venus is now moving through your own sign until late November so admirers will not be in short supply. You will be wearing your heart on your sleeve, expressing your feelings of affection directly and on the whole getting what you want. In the mood to flirt, you'll be showing a new side of your personality, aiming to be fascinating, winning and attractive. Loved ones may not be enchanted so remember not to burn your bridges behind you. You may want to backtrack later.
Your Monthly Horoscope for October
With surging energy and confidence you'll be keen to step out boldly and be a force to be reckoned with. Your birthday Sun is the start of a new year for you so a time to make good resolutions, plan ahead and then start moving in the right direction. There will be distractions and dilemmas at home and within the family which will be irksome at times and heart-warming at others. So your mood will flip from sunny optimism to more sombre reflection frequently. Just keep trucking. Close partners may be argumentative but they will, if handled sensibly, be willing to throw their energy behind your plans. Co-operation won't be easy or straightforward but you'll achieve more together than apart. You won't be as sociable as usual so pamper yourself in the quiet moments and keep your own counsel. In the final days you won't be as emotionally strained and will turn your attention to boosting your finances.
and Next Month's Horoscope for November
Charming and chatty you'll be on your toes and flitting around putting others at ease. Close partners will be on dynamic form so if you can fit in with their plans you'll make fast progress. Your two priorities will be to improve your finances and put changes in place at home. Perseverance will pay off when it comes to cash as will resisting the temptation to spend. There will be good news about a domestic or family matter to warm your heart and boost your morale towards the middle of the month. You'll deserve a pat on the back for your strenuous efforts and positive thinking which have made this triumph possible. Once the dust settles and your excitement recedes slightly you'll start making sensible plans for what comes next. A busy final few days will find you multi-tasking your way through a varied schedule. And giving in to your tendency to indulge, spending on extravagances.
Year Ahead 2020
2020 will be your year for reorganising your home and domestic life and finding that major changes in relationships within the family have to be negotiated. It'll feel like an uphill struggle at times but you need to be persistent, put in the leg work and stand firm about what you need for yourself for the future. Because of the contradictory nature of the influences around, you'll find it's one foot forward and one foot backwards. There will be moments of contentment and moments of drama, some tensions spilling into the open and old resentments getting finally cleared out of the way.rnYou'll be on an emotional roller-coaster in odd patches as sudden events crop up unexpectedly which throw your plans off track. But you'll keep your eye firmly on your goals and won't lose your equilibrium for long.rnJoint finances will need care since more money will come and go that usual which means you have to budget for an uneven flow of income. It needn't necessarily be disastrous, just fast-changing and unpredictable.rnYour energy won't be limitless so don't over push yourself when you feel like slumping. You will want to be helpful but over stretching yourself to ensure that others are being looked after won't be sensible.rnLuckily your social life will be lively and adventurous across the middle months of the year. And close partners will be firing on all cylinders from July onwards which could lead to arguments but not if you co-operate with their plans. That way you'll make progress faster.rnThe eclipse cycle will focus you on home matters for the first half year and ambitions in the second half. Then as you head for the New Year into 2021 you'll be racing around a busier schedule, be into a sociable phase and finding your self-confidence is soaring.