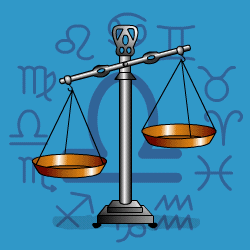 Libra
September 24 - October 22
---
Today's Horoscope for Wednesday August 12th
This is when it'll be wise to concentrate on your successes and cut your losses. There may be hard truths to be faced but once you make the decision to get to grips with problems everything will get easier. This is not a time for indulgence or laziness. If there is a domestic crisis around then you will be resourceful, a support on whom other family members lean. Just don't take too much on board yourself. Try to open up and have a round the table discussion.
The Weekly Outlook from 10th August
You'll want deeper connections not only with your close family, but also with the earth. You want to feel you belong and are firmly rooted. An almost mystical link with nature will bring you a new sense of meaning. Try not to do tasks only for your own good. If you can be helpful or involved with other people's needs in mind then you will do well. Be prepared to put in the legwork and you will find that out of the end of it you've created something solid and long-lasting.
Your Monthly Horoscope for August
In your element with friends, team mates and close partners all rooting for you and standing by with support, advice and the odd helpful push. You'll be happy for others to take the lead or go with group decisions, which doesn't mean you won't get impatient if anyone tries to tie you down or control you. You'll be tolerant of others freedom and expect the same in return. You'll be promoting yourself with vigour and finding companions appreciate the direct approach. Just try not to go wild with impulse decisions over money or react too quickly when a sudden change turns up early on. Holding yourself in check may not be easy since you'll be in an adventurous mood and a family member may be egging you on. But if you move too far too fast on a home or domestic matter, you'll need to backtrack before the middle of the month as your plans hit a stop sign. Thereafter you'll proceed with more caution and in the final days decide to step back and let others do the running around while you rest and relax. There'll be one minor domestic crisis but nothing you can't cope with.
and Next Month's Horoscope for September
September is always your month, at least the first three weeks, of stepping back, winding down and letting others take the strain. You'll want a chance to sit on the side-lines and reflect over the past year, as well as preparing and planning for the year to come as the Sun starts your birthday cycle from the 22nd onwards. It won't be wasted time and you'll bounce out revitalised since you need a breather. You'll also be concentrating on home, family and domestic matters and getting your head straight about what needs to change. Pushing ahead with reorganisation plans will take persistence and flexibility since certain loved ones may have different ideas and you'll have to bring them round. You'll be chatting away constantly and should be persuasive. Your popularity amongst friends and in group activities won't be in doubt and you'll appreciate the warmth of feelings you encounter as you move around. In the final week you'll put your foot down and forge ahead with confidence and renewed zest.
Year Ahead 2020
2020 will be your year for reorganising your home and domestic life and finding that major changes in relationships within the family have to be negotiated. It'll feel like an uphill struggle at times but you need to be persistent, put in the leg work and stand firm about what you need for yourself for the future. Because of the contradictory nature of the influences around, you'll find it's one foot forward and one foot backwards. There will be moments of contentment and moments of drama, some tensions spilling into the open and old resentments getting finally cleared out of the way.rnYou'll be on an emotional roller-coaster in odd patches as sudden events crop up unexpectedly which throw your plans off track. But you'll keep your eye firmly on your goals and won't lose your equilibrium for long.rnJoint finances will need care since more money will come and go that usual which means you have to budget for an uneven flow of income. It needn't necessarily be disastrous, just fast-changing and unpredictable.rnYour energy won't be limitless so don't over push yourself when you feel like slumping. You will want to be helpful but over stretching yourself to ensure that others are being looked after won't be sensible.rnLuckily your social life will be lively and adventurous across the middle months of the year. And close partners will be firing on all cylinders from July onwards which could lead to arguments but not if you co-operate with their plans. That way you'll make progress faster.rnThe eclipse cycle will focus you on home matters for the first half year and ambitions in the second half. Then as you head for the New Year into 2021 you'll be racing around a busier schedule, be into a sociable phase and finding your self-confidence is soaring.