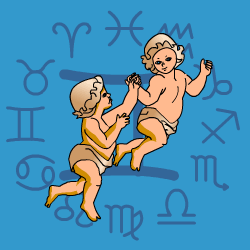 Gemini
May 21 - June 21
---
Today's Horoscope for Wednesday August 12th
You may not be laughing and singing in the face of setbacks but it'll be important not to get down. Being held back by circumstances out of your control is frustrating but accepting what you can't change will make delays easier to handle. You may be resentful about old obligations, since they remind you of the influence others hold over you. You need to keep reminding yourself that you cannot be an island unto yourself. There will always be ties and promises, which have to be honoured.
The Weekly Outlook from 10th August
Your feelings won't be light hearted partly because you are trying too hard to stay in control. OK you may be wary of being pushed around or there are circumstances which you feel are beyond your control. If you are tempted to act secretly to avoid confrontations it may not be wise. Be on your guard since not everyone around will have your best interests at heart. Just know you can make thew changes you want in your life. They won't happen quickly but will come if you just keep up the pressure.
Your Monthly Horoscope for August
Never happier than when you have sixteen projects running at once, you'll be in seventh heaven with a busy, varied schedule, with plenty of short distance trips, fun conversations and lively companions to keep boredom well at bay. Early on you may be inclined to be a touch too bluntly outspoken which may not go down too well. But really you won't care. Your engine will be revving up and you'll be raring to go. An impulse decision about money around the 4th could turn out to be over-confident, so try to add caution and common sense into your thinking before you leap into action. It won't be easy since you'll have a taste for indulgences and extravagances. But you could find before mid month that you've back yourself into a corner. Energetic friends will be egging you on but won't always be the best counsel. Slowing down in the final week to spend more time at home with loved ones in the family will give you a h=chance to recharge your batteries and get recent events into perspective.
and Next Month's Horoscope for September
Tucking yourself away to focus on home and family matters, put your feet up more regularly will be your main aim for three weeks. You'll want a chance to get recent events into perspective and clear space for heart-to-heart chats with loved ones. Slowly but surely you'll be seeing improvements come financially as well as emotionally. It won't happen overnight and without considerable effort and flexibility on your part but by the 20th you will feel onto a more stable footing. Thoughtful gestures and words of appreciation from everyday mates at work and in the neighbourhood will keep you smiling and your silver tongue will smooth over any wrinkles in return. Your ready supply of jokes and mischievous approach will keep you in the spotlight. You may not always be clear or decisive about career matters or how to push ahead with community ambitions but that can wait for another month. Into the final days you'll be kicking up your heels and flirting like mad, keen to pack in every last moment of enjoyment.
Year Ahead 2020
2020 is your year for reviewing your priorities, financial and emotional, and making a few key decisions. You will continue to be thrown back on your own resources and finding the universe and those close less generous than before. Obviously there will be tensions and you'll have a sense of being hemmed in by circumstances beyond your control. All you can do is persevere and if you stick to a steady course you'll find that the winds of good fortune start to blow behind you. Money will come in unexpectedly to boost your morale and improve your situation. After mid year there'll be loose ends to tie up as you head for less stressful times after the New Year.rnEmotionally as well, there will be pressures and some pushing and pulling with close partners. You won't always feel supported but out of your experiences you will be developing a stronger resilience and the ability to cope better in future. Paying attention to your inner restlessness will give you pointers about where you feel restricted and have been over compromising. There'll be no instant solutions to this particular dilemma but with growing awareness you'll be able to avoid the worst pitfalls.rnAcross the middle months of the year you'll turn the charm on to great effect and find your popularity rising. Dynamic and energetic friends will be around after June till the New Year who'll be keen to ensure you will sort out long term plans and not be looking backwards over your shoulder. Though you will need to exert considerable pressure to keep up your forward trajectory in a year when circumstances out in the universe will conspiring to throw distractions and delays in your way.rnNew relationships could be on the horizon for those on the lookout as the eclipses give you a gentle nudge from July onwards. For those in long running partnerships the hint is that new agreements need to be reached with both of you shifting ground if you want more fulfilment ahead.