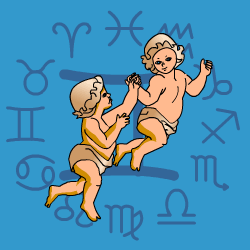 Gemini
May 21 - June 21
---
Today's Horoscope for Friday February 22nd
Your optimism will be high but you need to check that it isn't a mirage. Being a Pollyanna and thinking everything is going to be wonderful, is morale boosting but not helpful. You should be able to settle old differences amicably and see clearly which relationships in your life have room for development. Those which have outlived their time and have no potential for further growth, will be quietly dropped. New and better friendships or romances will arrive to take their place.
The Weekly Outlook from 18th February
Into a higher profile and hard working phase, you will be more ambitious than usual this week, aiming for a more prominent position. But there's also a hint with the Full Moon at the lowest point of your chart that at times you need to draw back slightly from too much work and ambition to consider your feelings more. You can't allow your head to over rule everything and forget your heart. Slow down and enjoy just being, instead of constant doing.
Your Monthly Horoscope for February
Trying to sail ahead with an anchor dragging is becoming a familiar feeling for you. But once over an early hurdle, you will be enthusiastically exploring new ideas and working out how you can follow your dream. You'll be planning to broaden your horizons with more travel if possible and if not then you'll be picking up new hobbies and deciding how best to keep your mind stimulated. The support and enthusiasm of one close partner will keep you smiling and your positive approach will boost your social popularity as well.rnIn private your feelings will run high, with more intense emotions bubbling to the surface. Try not to magnify your likes and dislikes. You can expect to receive generous presents in secret, in cash or in kind.rnAfter the 10th you'll be in demand for your merry chat and informed ideas. The right people will be impressed so don't hold back. Though watch a tendency on the 13th to leap in with both feet and speak before you think especially to friends or team mates.rnA more strategic and understated approach will be needed from mid month with Mars disappearing out of sight into the sign before yours. See what you can do to pull strings behind the scenes and get others to dance to your tune if circumstances prevent you from being as pro-active as you'd like.rnYou'll still be able to showcase your talents in the final days and although it'll take effort you will have quite an effect on the people who matter.
and Next Month's Horoscope for March
Socially you'll be on good form, mixing with fun company and exploring new leisure venues and insisting loved ones keep you well informed as well as entertained. You may not be entirely clear about how you are going to fulfil your ambitions or progress certain schemes. But that doesn't mean you'll be sitting idle. You'll push on, taking the lead and following your dream. But you'll have to pace yourself since not everything will be possible in the blink of an eye. Certain plans will need to stay on hold until Mars moves out of the sign before yours on the final day of the month. Before then you'll pull strings behind the scenes and get others to do what circumstances are preventing you from actioning. It will be frustrating at times but you'll need to be patient and play the long game. One close partner will boost your morale towards mid month but their advice may veer to the overly optimistic so take it with a pinch of salt. In the final ten days you'll be in forward gear, surrounded by friends and team mates and testing out your most original ideas and jokes.
Year Ahead 2019
A slow start to the New Year will find you pondering fundamental questions about the whys, wherefores and whither of your life. Freeing yourself up from old obligations will be one priority. As a restless sign, one of the wanderers of the zodiac, you dislike being tied down. There will be no fast answers so you'll need to be persistent. At times you'll feel thrown back on your own resources with less support than usual, financially and emotionally. But through your experiences you'll grow stronger, more resilient and better able to cope ahead. Socially you'll be on good form, with your enthusiastic approach winning you compliments and admirers. One relationship will develop in ways you could not have imagined before. Other bonds in your life which have no potential for development will be quietly dropped with a minimum of regret. What will bring more fulfilment and satisfaction will be altering the way you share, care, relate and co-operate. Not a simple ask but the results will be well worth the effort. From April your engine will be revving and nothing will hold you back. OK at moments your over confidence will send you sailing into decisions that might have been the better of more thought and preparation but the momentum of your exuberance will carry you through three exciting months. From mid year you'll be focussed on sorting out your personal finances and taking the initiative to ensure you are building security for yourself ahead. You may be tempted to throw money around to impress but partners and circumstances will put the brakes on your wilder extravagances. Towards the New Year, there will be a surge of confidence as money and more support come your way, pointing to positive changes ahead.