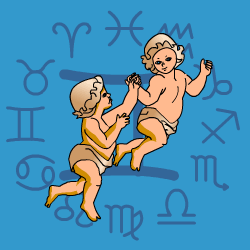 Gemini
May 21 - June 21
---
Today's Horoscope for Monday October 26th
Looking to your work situation to give you strength and encouragement, you'll dislike muddle, chaos or sloppiness. You will spot the flaws and inadequacies in practical situations and not be backwards about saying so. If you are more emotional in public than usual, it'll feel strange, but it lets others see your vulnerable side. You will attract sympathy and be sensitive to what's going on around you. Take time out to revise your fitness and diet regimes since you want to boost your stamina.
The Weekly Outlook from 26th October
Your ability to sparkle in the spotlight will attract a stream of compliments, if not new admirers. In the weeks ahead. You will be flirting, having fun and trying to duck out of boring chores. Towards Saturday you'll be in a rebellious, wanting to rock the boat or having the odd dispute in private. Forget co-operation. Go your own way and do your own thing and offer the same latitude to everyone else around. Tolerance will pay off and you'll be free to suit yourself.
Your Monthly Horoscope for October
Love and laughter are usually the gift to you of the Libra Sun around until the 22nd. But this year your best laid plans for entertainment and enjoyment will be jangled and jostled by a fast-moving set of events which will have you alternately frustrated and then elated. Financial and emotional ups and downs will require all your wits and capacity for coping with complicated situations and making the best of them. You will come out ahead since luck will be on your side but it will require determination and persistence. Energetic friends and team mates will be on hand pushing you dynamically ahead and trying their best to prevent you from looking backwards over your shoulder or get stuck in the past. You will feel trapped at times but there will be opportunities as well as new doors open in front of you. Taking time out to snuggle up close at home with loved ones will revitalise you. The final few days will be calmer as you settle into a steadier routine.
and Next Month's Horoscope for November
Your low boredom threshold never appreciates being tied down to routines and restrictions but you'll have not much choice for three weeks as duty beckons. Knuckling down to chores and sorting out practicalities and details will be the way to go. Since you'll be putting energy out you'll need to boost your stamina so getting your keep fit regimes running efficiently will be crucial. Fun distractions will loom large with Venus in romantic, flirtatious Libra so it won't be all work and no play. What will cheer you up are the rewards rolling in towards the middle of the month, mainly financial but also in private triumphs as you begin to see that past efforts are paying off. You'll feel more secure and begin to see a light at the end of the tunnel where one cash matter is concerned. In the final days you'll be less drained and better supported.
Year Ahead 2020
2020 is your year for reviewing your priorities, financial and emotional, and making a few key decisions. You will continue to be thrown back on your own resources and finding the universe and those close less generous than before. Obviously there will be tensions and you'll have a sense of being hemmed in by circumstances beyond your control. All you can do is persevere and if you stick to a steady course you'll find that the winds of good fortune start to blow behind you. Money will come in unexpectedly to boost your morale and improve your situation. After mid year there'll be loose ends to tie up as you head for less stressful times after the New Year.rnEmotionally as well, there will be pressures and some pushing and pulling with close partners. You won't always feel supported but out of your experiences you will be developing a stronger resilience and the ability to cope better in future. Paying attention to your inner restlessness will give you pointers about where you feel restricted and have been over compromising. There'll be no instant solutions to this particular dilemma but with growing awareness you'll be able to avoid the worst pitfalls.rnAcross the middle months of the year you'll turn the charm on to great effect and find your popularity rising. Dynamic and energetic friends will be around after June till the New Year who'll be keen to ensure you will sort out long term plans and not be looking backwards over your shoulder. Though you will need to exert considerable pressure to keep up your forward trajectory in a year when circumstances out in the universe will conspiring to throw distractions and delays in your way.rnNew relationships could be on the horizon for those on the lookout as the eclipses give you a gentle nudge from July onwards. For those in long running partnerships the hint is that new agreements need to be reached with both of you shifting ground if you want more fulfilment ahead.