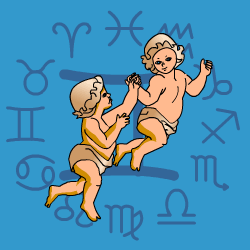 Gemini
May 21 - June 21
---
Today's Horoscope for Wednesday December 19th
You are tending to throw your emotional needs into work at the moment, and can be a little standoffish on social occasions. Others find you reserved but do not always realise quite how shy or even preoccupied you really are. Today you will be indulging in rich food, and less inclined to take exercise since you can't be bothered. But at least you should be feeling physically less over-stretched, as long as you do not let your appetite run rampant.
The Weekly Outlook from 17th December
Mars is about dynamic energy and Pluto is about transformation. As they are in aspect this week things can feel stuck and blocked - a little like pushing against a mountain. Someone is maybe getting in your way or trying to control you. But you can overcome the challenge and end up achieving a substantial amount. You just have to try extra hard. At times it may seem like a battlefield as confrontations litter your way ahead, but it won't last long.
Your Monthly Horoscope for December
Sometimes a wandering sign who prefers to mix n' match with friends rather than sticking close to your partner, you'll surprise yourself by welcoming togetherness. You may be feeling marginally vulnerable so the support of your special other will make you feel more secure. You'll also be in demand socially for your knack of making everyone you meet feel special. You will be pushing ambitiously ahead at work or in your community activities but running into a few muddles where schemes don't come up to your expectation. If you go with the flow, be helpful to others and forget about success and personal glory you'll fare better. Close partners will be keen to hear your views so don't hold back from the 12th. Your clear insight into tangles will be of benefit to them. A friend will spring a fun surprise towards the 20th which will make you laugh and set your mind racing along a new track. The final days will be more secretive, inward looking and you'll be digging deep for answers to fundamental questions. Sorting out joint finances will also give you peace of mind.
and Next Month's Horoscope for January
Mars will be urging you onwards to sort out long term plans with energetic friends giving an additional nudge. But you won't be able to move ahead until you've sorted out old obligations and unpicked a few confidential tangles, emotional and financial. It'll all be slower going than your hyper-active spirit appreciates but the new agreements you make now will stand you in good stead in the future. Keeping your head down and pushing on will be part of it. The other with a Capricorn Solar Eclipse in place is a hint that you need to alter the way you share, care, relate and cop-operate in whatever sphere of your life will help. Changing the habits of a lifetimes isn't easy but the results in the time ahead will be encouraging. Happily romantic, sociable Venus is in your opposite sign from the 7th so the affection of one special partner will be there and you'll be in demand at parties for your knack of making others feel special. Your modo will lighten and brighten from the 20th with a chance to spread your wings and be more enterprising.
Year Ahead 2019
A slow start to the New Year will find you pondering fundamental questions about the whys, wherefores and whither of your life. Freeing yourself up from old obligations will be one priority. As a restless sign, one of the wanderers of the zodiac, you dislike being tied down. There will be no fast answers so you'll need to be persistent. At times you'll feel thrown back on your own resources with less support than usual, financially and emotionally. But through your experiences you'll grow stronger, more resilient and better able to cope ahead. Socially you'll be on good form, with your enthusiastic approach winning you compliments and admirers. One relationship will develop in ways you could not have imagined before. Other bonds in your life which have no potential for development will be quietly dropped with a minimum of regret. What will bring more fulfilment and satisfaction will be altering the way you share, care, relate and co-operate. Not a simple ask but the results will be well worth the effort. From April your engine will be revving and nothing will hold you back. OK at moments your over confidence will send you sailing into decisions that might have been the better of more thought and preparation but the momentum of your exuberance will carry you through three exciting months. From mid year you'll be focussed on sorting out your personal finances and taking the initiative to ensure you are building security for yourself ahead. You may be tempted to throw money around to impress but partners and circumstances will put the brakes on your wilder extravagances. Towards the New Year, there will be a surge of confidence as money and more support come your way, pointing to positive changes ahead.