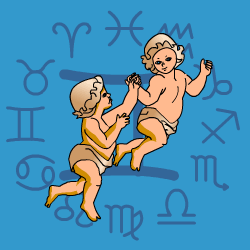 Gemini
May 21 - June 21
---
Today's Horoscope for Tuesday June 25th
The key thing at the moment is to learn the lessons of handling cash successfully. Maybe you have been flashing it around extravagantly to impress everyone around, but try to save for security as well. You may be dashing around different people, trying to sort out what they think about this or that, and getting confused as a result. But at the end of it all you will know what is going to work and where to commit your energy.
The Weekly Outlook from 24th June
You'll be lucky where cash is concerned, although likely to let it go as soon as you get it. You will be spending on the beautiful things of life, the luxuries, the treats, the indulgences and on buying presents. You will want to spread your good fortune around. At work you are not about to let your feelings get in the way of your thinking since you want to be clear. But it does sometimes mean you sound cool or too detached.
Your Monthly Horoscope for June
Your birthday Sun for three weeks with a sparkle of romance and charm from Venus will keep you in good spirits. You'll bounce with good humour and confidence and make everyone sit up when you sweep into rooms. Compliments will flow your way for your spruced-up appearance and way of making everyone you meet feel good. Taking time out from glad-handing to sort out your priorities for the next year will be sensible since you need to get new plans and projects moving soon. Money will be on your mind and causing you some irritation in the middle of the month. Circumstances behind your control or a lack of generosity from certain people will have you fuming. Don't get discouraged. Get determined. You have an ingenious mind and can usually be relied on to come up with a smart scheme for solving problems. After the 21st you'll have your thinking cap on and be forging ahead.
and Next Month's Horoscope for July
Revved up and raring to go, you won't allow anything to get in your way. You're likely to be impatient with delays and mistakes and not be backwards about speaking your mind forcefully. Try not to flare up and fly off the handle otherwise you run the risk not only of putting your foot in your mouth but also of tripping over your feet and causing an accident. More haste less speed. With a little caution you'll get to where you want to be just as quickly. The two Eclipse this month will focus your mind on money. You may be tempted to throw it around to impress but really it won't be wise. Instead, take the initiative to improve your finances in the longer term. Some planning and action at this stage will pay off. Remember also to take partners into consideration since you can't do everything on your own. You will have moments when you want to throw everything up in the air and kick over the traces but allowing your restlessness to get out of hand won't bring the results you want. Take a deep breath and count up to 25.
Year Ahead 2019
A slow start to the New Year will find you pondering fundamental questions about the whys, wherefores and whither of your life. Freeing yourself up from old obligations will be one priority. As a restless sign, one of the wanderers of the zodiac, you dislike being tied down. There will be no fast answers so you'll need to be persistent. At times you'll feel thrown back on your own resources with less support than usual, financially and emotionally. But through your experiences you'll grow stronger, more resilient and better able to cope ahead. Socially you'll be on good form, with your enthusiastic approach winning you compliments and admirers. One relationship will develop in ways you could not have imagined before. Other bonds in your life which have no potential for development will be quietly dropped with a minimum of regret. What will bring more fulfilment and satisfaction will be altering the way you share, care, relate and co-operate. Not a simple ask but the results will be well worth the effort. From April your engine will be revving and nothing will hold you back. OK at moments your over confidence will send you sailing into decisions that might have been the better of more thought and preparation but the momentum of your exuberance will carry you through three exciting months. From mid year you'll be focussed on sorting out your personal finances and taking the initiative to ensure you are building security for yourself ahead. You may be tempted to throw money around to impress but partners and circumstances will put the brakes on your wilder extravagances. Towards the New Year, there will be a surge of confidence as money and more support come your way, pointing to positive changes ahead.