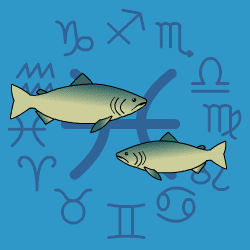 Pisces
February 20 - March 20
---
Today's Horoscope for Wednesday December 19th
You want your social life to be an adventurous experience so you're happy for loved ones to expand your view of life. You want to be entertained and informed at the same time. Even if you can't travel instantly to exotic places with loved ones, you can always dream and plan. Your heart is yearning for far horizons and paradise beaches. Try to add a touch of colour to your social activities, since you want more excitement in your off duty hours.
The Weekly Outlook from 17th December
If you have people under your control, you need to be acting towards them in a reasonable manner. Though it's difficult to stay reasonable around Mars and Pluto. Everyone tends to get into a mild fury. From the weekend you will be sorting out longer term plans for the next 12 months, so bounce your ideas around and see what feedback you get. Helpful practical advice will put you on the right lines, though obviously the decision will be yours.
Your Monthly Horoscope for December
In a zippy, dynamic mood and in a high profile few weeks, you'll be taking the lead, expecting others to follow behind and generally making your mark. Your talents and achievements will be recognised which will do your self-esteem the world of good. Which isn't to say you won't have moments in the first few days of low energy or bewilderment and dither as your will power sags temporarily. Just go with the flow when you're not feeling up to stamping your foot and being decisive. Your social life will be into a more adventurous phase so you'll be mixing with fun company and trying out new activities and venues. The right people will be keen to hear your views from the 12th so don't hold back. Good news or a new opportunity on the cash front around the 20th will set your mind racing along new lines. Thereafter you'll be surrounded by friends, the more the merrier as far as you're concerned.
and Next Month's Horoscope for January
Not always a sign that appreciates confronting tricky issues or getting a practical grip, you will need to stiffen your spine and make some key decisions. There will be two priorities this month. One is money and ensuring you take the initiative to improve your situation and curtail your wilder extravagances. The other is committing to sensible longer term plans. You need a goal to aim for and a road map for getting there. Certain friendships will be moving through a testing three weeks and you'll not always feel supported or on the same wavelength. Try not to get negative but see what you can do to widen your circle of acquaintances in the months ahead. The more the merrier as far as you're concerned. Your social status will rise with invitations to special outings where you'll put on your glad rags and a sparkling performance. In the days around the 20th you'll be wrestling with a sudden cash dilemma which will require patience and persistence to fix. Then you'll sink gratefully into a quieter few weeks, happy to put your feet up and let others do the running around.
Year Ahead 2019
You much prefer to swim with the currents and drift with the currents, but needs must that you focus firmly early in the year on sorting out practical plans ahead. Certain friendships will be either less amiable than they once were or separated. So you'll treasure the mates around who are loyal and steadfast. They'll offer you advice which won't always be as upbeat as you'd like but they won't be wrong. Team relationships at work will require effort to get them running smoothly. If you are unsettled about a cool atmosphere, then try to break the ice and find a better way of ensuring co-operation. Your everyday schedule will be busy to the point of frantic at times so you won't be bored, but will need to be better organised. Your tendency of leaping out to speak the truth as you see it may not always go down well. Try to tone down honesty and add a little tact. Luckily your efforts should result in several successes or triumphs along the way so you'll be on the receiving end of recognition, praise and admiration from those whose judgement you trust. Neptune, your ruler, will still be in your own sign, making for some confusion or just a foggy state of mind at times. You won't always muster up the courage to be as pro-active as you'd like. In those times it'll be best to go with the flow and see where it takes you. What will waken you up after mid year is the desire to have a more exciting social life. You may be noticing a lack of attention or affection. The answer is to start handing out what you want for yourself. Shower compliments, hugs and kisses around and you'll be revitalised by the response. In December you'll begin to see how future plans can be made to work, with the enthusiastic support of new and upbeat friends.