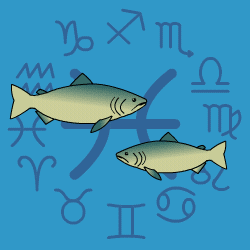 Pisces
February 20 - March 20
---
Today's Horoscope for Wednesday August 12th
With Pluto and Saturn close for most of this year, it makes for a challenging time, requiring a tough-minded approach. Pluto pushes for change while Saturn opts to keep things as they have always been. Try not to live so much in your hopes for the future that you forget to live in the present and enjoy what you have. Sorting out a long-term strategy which works is a priority, but you have to balance that with everyday activities, which need your wholehearted attention.
The Weekly Outlook from 10th August
Friendships and certain group activities may be difficult to cope with calmly. There may be tensions even jealousy around which will require tact and strategy to handle. You'll need to be honest in a quiet way on an ongoing basis otherwise the strains will build up. It'll be important to persuade everyone to pull together in a substantial task. Putting your shoulder to the wheel will burn up surplus emotion and will produce a result. Just do what you can to protect yourself.
Your Monthly Horoscope for August
A dreamer and visionary you are not in your element stuck with chores or having to tackle practical financial matters. But needs must and you'll have to knuckle down and accept the way life is for three weeks. Since you'll be putting energy out you'll need to boost your stamina by sticking to your fitness and diet regimes. Refuse to be hurried through a demanding everyday schedule and clear space to wind down every so often. You will be keen to improve your personal finances but going full tilt into schemes that are a touch overly optimistic won't be wise. If you take one such situation for granted as an easy win, you'll find out before mid month that your hopes were misplaced. Slow but sure and double check every inch of the way needs to be your motto. There will be fun distractions from a lively social life after the 7th with invitations and compliments coming your way. Your workload will lighten in the final week with more support on offer from a close partner. Money will still throw up odd irritating problems but you'll be coping well.
and Next Month's Horoscope for September
Togetherness and co-operation will be the key to getting ahead in a constructive way now. You'll be well supported by close partners if you can compromise and fit in with their plans where necessary. You'll sense that forging new future plans will be what draws you closer. Friends will also be around to keep your morale high and offer upbeat if not always realistic advice. You will have indecisive moments when your energy sags but they will be few and far between. Just take a breather when you feel the need and you'll bounce back in better form. Your personal finances will benefit from a sharp nudge as you put your foot down and insist that your rights are protected and no one gets away with short changing you. Over eating could be a minor hazard with sweet-toothed Venus moving into your chart area of fitness for a few weeks. Make the effort to up your exercise regimes as well. Later you'll be secretive, emotionally intense and keen to sort out better agreements over money.
Year Ahead 2020
Your focus for 2020 will be almost exclusively on friends and future plans with such a build-up of planetary energy in Capricorn. You won't always be clear where you are heading or the company you want to travel beside since you'll be critical one moment and enthusiastically supportive the next. In a year of ups and downs and some dramas you'll need to watch not to be too accommodating of other people's wishes or indeed to be swept around by the prevailing wind. If you stick to your vision and keep your goals clearly in mind you'll avoid most of the pitfalls. A new friend will boost your morale and provide just the encouragement and motivation you need to keep you on track.rnHome will be happier with family tensions easing noticeably so you'll have a chance to relax and be indulged especially for a few months after April. During that phase you'll take the chance to mull over your options and decide what needs cleared out of your life. It may be old attitudes of mind that no longer fit with your present situation, old ambitions that no longer hold your interests or even certain friendships that have passed their sell-by date. You won't be making sudden decisions but will gradually see what you need to hang onto for the time ahead.rnTaking the initiative where your personal finances are concerned is the second half year's task. Getting a grip and then staying persistent will pay dividends though there will be a few distractions along the way. But you know you need to get more surplus accumulated if you're to feel secure and have extra for spending.rnBy the year end you'll be aiming high, knowing the only way to succeed will be to draw attention to yourself and your achievements. You'll take courage in both hands and demand recognition.