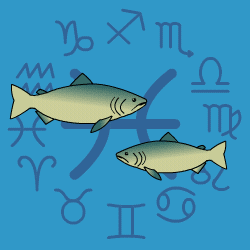 Pisces
February 20 - March 20
---
Today's Horoscope for Sunday May 26th
You want to be centre-stage, entertaining others and picking up all the attention and applause. You have a good deal of creative flair and strong willpower. But you also need to belong, to be loved, cuddled and cosseted, so look for reassuring companions who will give you a little more help and support than usual and be an anchor for you. Try to avoid overeating, because you will want to pamper yourself a bit, and avoid overreacting to certain situations.
The Weekly Outlook from 20th May
Talking to your nearest and dearest will help you sort out any family muddles which have been swept under the carpet recently because there was no time to address them. More sensitive and private than usual, you tend to retreat into your shell and put up defensive barriers against the outside world. The trick now is to find a way of bringing more of a sense of adventure and challenge into your life without overdoing it and then regretting it later.
Your Monthly Horoscope for May
Your feet will be working as fast as your tongue in a busy, varied, no-time-to-be-bored three weeks. You'll need to manage your schedule well, be on top of organisational details and check that what you say has been understood. If you manage all that then you'll be streamlined and making fast progress. There may be a heated mood at home partly because you are taking other worries back with you and are perhaps blaming those close for what isn't their fault. Try to soak up your surplus energy by reorganising and sweep loved ones up in your enthusiasm rather than ordering them around. Friends and team mates will lend a calming support to proceedings with words of wisdom just when you need them most. From mid month your energy will rise along with your passions and your charming ways with words will smooth over all manner of wrinkles in the weeks thereafter. Relations within the family will be harmonious and relaxing in the final ten days.
and Next Month's Horoscope for June
Tucking yourself away quietly at home or in familiar surroundings will be tempting. You know you need to slow right down to give yourself a chance to get recent events into perspective. You also want a chance to snuggle up close to loved ones and to turn your mind to redecorating. You want more beauty and elegance around to match your inner mood of harmony. Family relations in general will be smoother and more amiable after the 9th. You'll be revved up at points and need to find an outlet for your energy that doesn't include bossing loved ones around. You will throw yourself into playing games and having fun. Though around mid month certain friendships will be under strain. You'll be challenged by a complex situation and feeling inclined to retreat. Standing firm and acting as a peacemaker and mediator will be more useful. After the 21st you'll be into an easier, fun-filled few weeks.
Year Ahead 2019
You much prefer to swim with the currents and drift with the currents, but needs must that you focus firmly early in the year on sorting out practical plans ahead. Certain friendships will be either less amiable than they once were or separated. So you'll treasure the mates around who are loyal and steadfast. They'll offer you advice which won't always be as upbeat as you'd like but they won't be wrong. Team relationships at work will require effort to get them running smoothly. If you are unsettled about a cool atmosphere, then try to break the ice and find a better way of ensuring co-operation. Your everyday schedule will be busy to the point of frantic at times so you won't be bored, but will need to be better organised. Your tendency of leaping out to speak the truth as you see it may not always go down well. Try to tone down honesty and add a little tact. Luckily your efforts should result in several successes or triumphs along the way so you'll be on the receiving end of recognition, praise and admiration from those whose judgement you trust. Neptune, your ruler, will still be in your own sign, making for some confusion or just a foggy state of mind at times. You won't always muster up the courage to be as pro-active as you'd like. In those times it'll be best to go with the flow and see where it takes you. What will waken you up after mid year is the desire to have a more exciting social life. You may be noticing a lack of attention or affection. The answer is to start handing out what you want for yourself. Shower compliments, hugs and kisses around and you'll be revitalised by the response. In December you'll begin to see how future plans can be made to work, with the enthusiastic support of new and upbeat friends.