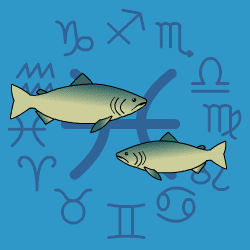 Pisces
February 20 - March 20
---
Today's Horoscope for Sunday January 20th
You will be feeling rather retiring at the moment, not at all pushy. You may feel happier in your own company than usual, and can be a touch overwhelmed by having too many people around, so give yourself space. This is your time in the year to step back, take stock, recharge your batteries and let others do the running around. At home you may find yourself involved in irritable discussions with family members or close companions. Try to stay cool.
The Weekly Outlook from 14th January
This week you will have a distinct twinkle to your eye. You want to be out having fun. Life is lively, exciting and probably fairly disruptive. But what it's doing is clearing away limitations and saying to you: "Hey, you've got a little bit stale or stuck, and you've been hanging on to things for security which you need to let go of." So The influence is pulling you away from things that are no longer any use to you.
Your Monthly Horoscope for January
Not always a sign that appreciates confronting tricky issues or getting a practical grip, you will need to stiffen your spine and make some key decisions. There will be two priorities this month. One is money and ensuring you take the initiative to improve your situation and curtail your wilder extravagances. The other is committing to sensible longer term plans. You need a goal to aim for and a road map for getting there. Certain friendships will be moving through a testing three weeks and you'll not always feel supported or on the same wavelength. Try not to get negative but see what you can do to widen your circle of acquaintances in the months ahead. The more the merrier as far as you're concerned. Your social status will rise with invitations to special outings where you'll put on your glad rags and a sparkling performance. In the days around the 20th you'll be wrestling with a sudden cash dilemma which will require patience and persistence to fix. Then you'll sink gratefully into a quieter few weeks, happy to put your feet up and let others do the running around.
and Next Month's Horoscope for February
Warm-hearted friends will be around to pull you out of yourself when you look reluctant to come out of your shell. Your knack of making everyone feel special will do your popularity the world of good as well as your morale. There'll be a welcome mat laid out whenever you want to be out and about. But truthfully you'll relish quiet time spent in your own company or in a cosy corner, letting others do the running around and take the strain for three weeks. You'll want a chance to get the past year into perspective and do a little secret planning for what lies ahead.rnGetting your personal finances boosted or solving one tricky problem will preoccupy you for the first two weeks. Not everything you are trying to achieve will be possible so be realistic and try to avoid making snap decisions especially when a surprise turn of events towards mid month upsets your budget calculations. Happily your lucky touch will not have deserted you so all will end well with a triumph or two along the way.rnFrom the 14th you'll be into a fast-moving and outspoken few weeks when your packed everyday schedule won't leave any room for boredom. Your birthday Sun from the 18th onwards for four weeks will be the go ahead you need for your plans, which you'll push forward with confidence and exuberance.
Year Ahead 2019
You much prefer to swim with the currents and drift with the currents, but needs must that you focus firmly early in the year on sorting out practical plans ahead. Certain friendships will be either less amiable than they once were or separated. So you'll treasure the mates around who are loyal and steadfast. They'll offer you advice which won't always be as upbeat as you'd like but they won't be wrong. Team relationships at work will require effort to get them running smoothly. If you are unsettled about a cool atmosphere, then try to break the ice and find a better way of ensuring co-operation. Your everyday schedule will be busy to the point of frantic at times so you won't be bored, but will need to be better organised. Your tendency of leaping out to speak the truth as you see it may not always go down well. Try to tone down honesty and add a little tact. Luckily your efforts should result in several successes or triumphs along the way so you'll be on the receiving end of recognition, praise and admiration from those whose judgement you trust. Neptune, your ruler, will still be in your own sign, making for some confusion or just a foggy state of mind at times. You won't always muster up the courage to be as pro-active as you'd like. In those times it'll be best to go with the flow and see where it takes you. What will waken you up after mid year is the desire to have a more exciting social life. You may be noticing a lack of attention or affection. The answer is to start handing out what you want for yourself. Shower compliments, hugs and kisses around and you'll be revitalised by the response. In December you'll begin to see how future plans can be made to work, with the enthusiastic support of new and upbeat friends.