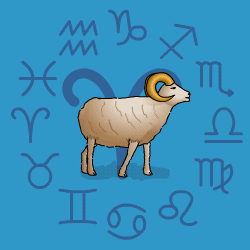 Aries
March 21 - April 20
---
Today's Horoscope for Wednesday December 19th
You like people or you dislike them; there is not much in between where your feelings are concerned at the moment. Your passions are running hot and strong. Maybe you are keeping them well hidden, but you are definitely looking for an adventurous emotional life. You want to live life at a profound level and don't care for anything too frivolous or superficial. Whatever or whoever you have in mind, you will plot and plan to make your dreams come true.
The Weekly Outlook from 17th December
Be slightly more on guard than usual for a few days. You could attract the wrong kind of people. So double-lock doors and windows and don't walk down the wrong side of the road. There's no reason to be worried, just be sensible. You are putting a good deal of emphasis on personal reputation. You will dislike more than usual being passed over for attention or praise at work. You want to be noticed, not made to feel one of the crowd.
Your Monthly Horoscope for December
A fiery, adventurous Sagittarius Sun for three weeks will keep you bouncing. Your head will be filled with grand plans and enthusiastic schemes though you won't always be realistic. Still this is the time to follow your dream and let your vision lead you on. You'll aim high and if you fall short, you'll still get further than usual. Truthfully this isn't your time to be pro-active. More a chance to ponder, prepare, plan and after the New Year you'll get cracking. Delays now means a chance to test out your ideas and refine your goals. You will have the odd sinking moment around the end of the first week so distract yourself with a few treats. Emotionally you'll be playing your cards close to your chest. Your passions will run deep and strong. Just try not to exaggerate your likes and dislikes. A fun surprise on the 20th will blow any cobwebs away and see you stepping out boldly. The final week is when you take the lead, pick up more attention and recognition and make your mark. Charm will get you almost anywhere.
and Next Month's Horoscope for January
A super-energetic start to the year with Mars moving into your own sign on the 1st will run into too much hard work and some obstacles. Needs must that you shoulder your responsibilities and put in the effort. The Solar Eclipse at your midheaven is hinting that you need to try harder to make your mark and get your talents out on display. You may face some opposition either from boss figures at work or those who object to you taking control. See where you can use your persuasive powers to have influence rather than forcing your way ahead. You'll have big plans and high enthusiasm but not all your schemes will be workable so pitch your expectations down slightly and you won't be disappointed. Luckily Venus in fiery Sagittarius from the 7th will brighten your social life, bringing fun company and adventurous outings. A surprise turn of events around the 19th will test your patience, but a change of plan will be needed so go with the flow. Another Eclipse, a Lunar Full Moon on the 21st will find you pulled between friends on the one hand and loved ones on the other, as you also contend with a sticky problem. Be calm and it'll pass by quickly. By the 25th you'll be bouncing with exuberance and high confidence.
Year Ahead 2019
You'll be pushing extra hard as the New Year opens, determined to make your mark and to get your talents recognised. There'll be obstacles to overcome, requiring self-discipline and perseverance. Letting self-doubt slow you down won't be helpful and luckily Jupiter in Sagittarius will keep your enthusiasm from flagging. And what will give your efforts an additional nudge is your feeling that it's now or never for success. That isn't true but the motivation will help you to make progress in sticky times. The early Lunar Eclipse will also nudge you to remember that fun and friends are important as well as achieving your goals. Your fiery go-ahead, act-first and think-second approach won't always be ideal so you'll need to pace yourself and take your responsibilities seriously. That way you'll gain the respect of those whose judgement you trust. Your financial situation will be changing with some ups and downs but that's not necessarily a disaster, since there'll be luck as well as extra outgoings at times. You just need to budget well and save when there's surplus. From mid year you'll slow down and put home and family matters up as your priority. Changes will be on your mind both literally in terms of reorganisation and also as you contemplate what emotional adjustments are needed for peace, harmony and satisfaction ahead. Speak frankly and tactfully and listen carefully and you'll reach agreements which are fair to all. Distractions at work and from your community activities will get in the way so listening to your heart, not your head will be important. August will be a social feast with fun, romance and enjoyment on offer as loved ones rally round to shower you with attention. Close relationships will hit a strained phase in October and November which can be overcome if you bite your tongue and say less. A confident, lucky and successful few months kicks off in December to allow you to sweep away any lurking concerns.