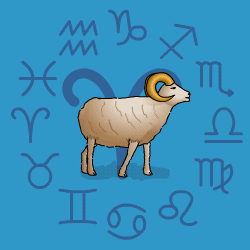 Aries
March 21 - April 20
---
Today's Horoscope for Tuesday November 20th
You do want to push your visions forward. But if you have a financial plan in mind make sure you aren't relying too heavily on someone else's generosity. Try to curb your inclination to spend like mad. Maybe you feel uneasy, not able to muster up confidence or competitive drive to get your own way at the moment. But it is only a temporary phase. Do a little strategic planning ahead to the time when you can act with greater speed.
The Weekly Outlook from 19th November
This week you feel vital, boisterous, exuberant and very strong. On top of that you have a sense of idealism, wanting to put your energy into your visions, your dreams and your hopes to make them work better for yourself. So you will move nearer to accomplishing certain of your goals. In order to make one important decision, you have to arrive at the correct standpoint yourself. So this may mean delaying until you have pondered on various different possibilities.
Your Monthly Horoscope for November
Slow but steady isn't your usual approach but you won't have any choice for three weeks. Needs must you sort out highly personal matters behind the scenes, financial and emotional. You won't get everything you want so some flexibility will be required. But you won't be sorry you made the effort to reach better agreements. Close partners will be affectionate and you won't be short of party invites to keep you in the social swing. In week 2 you'll notice a shift into a more adventurous, stimulating few months ahead. You'll have high enthusiasm and grand plans, not all of which will be practical or workable. But this is when you allow your visions to flourish and look further afield for fulfilment. Mars, your ruler, moving out of sight in the sign before yours for a few weeks from mid month will make it tricky to be as pro-active as you'd like. But you can plan, prepare and pull strings while you wait. After the 22nd you'll be flying high with the spark of adventure in your eye. Holiday brochures will be poured over with an eye to fun somewhere else.
and Next Month's Horoscope for December
A fiery, adventurous Sagittarius Sun for three weeks will keep you bouncing. Your head will be filled with grand plans and enthusiastic schemes though you won't always be realistic. Still this is the time to follow your dream and let your vision lead you on. You'll aim high and if you fall short, you'll still get further than usual. Truthfully this isn't your time to be pro-active. More a chance to ponder, prepare, plan and after the New Year you'll get cracking. Delays now means a chance to test out your ideas and refine your goals. You will have the odd sinking moment around the end of the first week so distract yourself with a few treats. Emotionally you'll be playing your cards close to your chest. Your passions will run deep and strong. Just try not to exaggerate your likes and dislikes. A fun surprise on the 20th will blow any cobwebs away and see you stepping out boldly. The final week is when you take the lead, pick up more attention and recognition and make your mark. Charm will get you almost anywhere.
Year Ahead 2018
Home, friends and romance are all areas highlighted by 2018's Solar Eclipses so will be your priority. Review, discuss and adjust what isn't suiting you any longer. Happily Jupiter moving through Scorpio will allow you to embrace change in a positive way, with beneficial results, emotionally and financially. Money will come in unexpectedly and you'll let your defences down to allow for more intimacy. Though towards midyear you'll find your finances move into a roller coaster phase, both up and down, so you'll need to budget sensibly.rnIn your career or community activities you may be weighed down by work and responsibilities so will be sticking to the straight and narrow. Everything you've pushed and prepared for should be bringing in a harvest. Though past mistakes may also surface to be sorted out.rnIn the first few months you'll be widening your circle of friends and sorting out longer term plans. With a major push from March onwards to move towards your goals and fulfil your ambitions. It'll feel like pushing boulders uphill at points but perseverance will win through.rnThen from midyear you'll want to slow down to focus on family and domestic matters and to liven up your social life. It won't be easy juggling close relationships and duties in the outside world. But needs must for a fulfilling life. From November you'll be aiming higher, keen to broaden your horizons and find time for adventures or more stimulating hobbies.