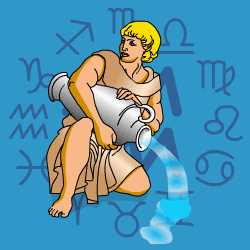 Aquarius
January 21 - February 19
---
Today's Horoscope for Wednesday December 19th
You want to be looked up to and admired so you are putting a great deal of stress on how you look, sprucing up your outer appearance. Maybe even putting on airs and graces. Somehow you feel you have to earn being accepted at the moment - only by being successful will you be valued. Understand you are loveable for just being you. If other people can't see that they are not worth having around. Try to stay close to what you really feel.
The Weekly Outlook from 17th December
Maybe you are feeling controlled by people who are very determined to have all the power. It's awkward to know how to handle them. The more you push back, sometimes the worse they get. Be as secure within yourself as you possibly can. Don't be discouraged by what is not working out as quickly as expected. Nothing comes together spectacularly well at this time of the year for you. Have patience and what you want will all come right nearer your birthday.
Your Monthly Horoscope for December
On top form socially, you'll be charming all the right people and putting on quite a performance. Invites to special occasions will boost your morale and mix you in elevated company. Friends won't be in short supply either and the first three weeks will be a time to mix n' match with as many as you can. You'll be sorting out long term plans, picking up hints and advice. Your lively sense of humour will keep everyone entertained even if you go too far at times. Your personal finances need care and attention since you want more security and the surplus to spend as you please. In addition you may get in a muddle by not keeping an eye on detail or being overly generous. After mid month you'll gradually wind down and prepare for a less helter skelter schedule in the final days.
and Next Month's Horoscope for January
You'll be foot on the accelerator, moving and talking at high speed, not always patient with delays and others' mistakes but no one will be half-asleep around you. Once in a while you'll need to pause and ask yourself whether you are running away from highly personal issues that need attention. Give yourself quality time to sort out what you need to jettison from your life that no longer works. Don't get discouraged or gloomy about what you're leaving behind. Be hopeful that better will come soon to take its place. Affectionate friends will be around to make you feel appreciated and welcome and pull you out when you are getting too introspective. In the final days you'll cast off a good many cares and put your best foot forward. One close relationship will be under your review and if you can sit down for a heart to heart, you'll reach better agreements for the future. On the 25th a significant morale boost will signal a green light for a plan that is close to your heart.
Year Ahead 2019
Looking ahead you'll see rosy glows on the far horizon with great possibilities in the future. A wide circle of enthusiastic friends will be boosting your self-esteem and handing out helpful advice, which may veer to the over-confident at times, so be sure to double check. But for all that you'll be more inward looking, asking yourself in the quiet moment probing questions about what you really want to be doing with your life. Certain old ambitions have lost their fire and you know you need to let them go and find better for the future. You'll also be clearing out old baggage, whether emotional or old attitudes of mind that have passed their sell-by date. The Solar Eclipses early and late will prompt you to dig deeper for answers. House moves are a possibility or renovations and changes in your domestic setup, as you're drawn to a more modern feel for your intimate surroundings. You'll be restless as well emotionally with changes ongoing within the family. At times you may feel insecure as old certainties seem to disappear. But in future you will reconnect where it really matters in a different way. Your finances will be rebalancing from early on as you decide that sharing and caring and co-operating is more sensible than going it alone. Revising your fitness and health routines and regimes will be on your mind from July onwards for several months. Not over-committing yourself and draining your energy unnecessarily will be one tip. Remembering to stay positive another, since your state of mind will affect your body. If you feel discouraged then your physical fitness will sag. As you near the year's end you'll find that you become more contented in your own protective niche and with yourself. Your hunches will prove spot on about how you can give yourself a more fulfilling time ahead.