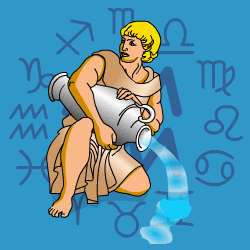 Aquarius
January 21 - February 19
---
Today's Horoscope for Wednesday August 12th
You'll have a good deal of tenacity and grit but that stubbornness does not always work in your favour. Try not to be too much a loner, or obsessive in your outlook or set your face against change. You will be susceptible to picking up gloomy vibes which are nothing to do with you. If you are feeling jangled or discouraged you need to back away from certain people. Find time to re-centre yourself and keep focussing on clearing out what you really do not need in your life anymore.
The Weekly Outlook from 10th August
You'll need to grasp the chance to explore your what is bothering you. You may be wary of finding out things you do not like about yourself or others. But in the process you will miss finding positive benefits which you have overlooked far too long. What is crucial though is to be self-protective and watch who you associate with for a day or so. You could end up being pushed around by someone, or indeed by circumstances, and end up feeling powerless to do much about it. Stand up for yourself.
Your Monthly Horoscope for August
Normally an independent sign, you'll be pleased to have a helping hand and a shoulder to lean on from a close partner. The more you share, care and co-operate, the more support will come your way. Out on the social scene you'll also be spreading your charm around making everyone you meet feel special. There may be a few surprising events blow up at home or in the family early on but try not to let yourself be spurred into speedy action. You may over-estimate your ability to turn one tricky situation round. Going too far too fast will only send you off in the wrong direction and you'll have to start all over again by the middle of the month. The more you give to close partners the more they'll remember your generosity early next month when they'll be happy to shower you with affection. In the meantime you'll be pampering yourself in the odd quiet moment. Into the final week, you'll be secretive, intense and ultra-determined. Sorting out confidential, financial and emotional tangles, will keep you occupied.
and Next Month's Horoscope for September
Deep down inside you know you're getting your life together and tackling the dilemmas which have bothered you for some time. But it may not be obvious for a few weeks to anyone else since you'll be keeping your thoughts and feelings private. Only those close will have any idea of how much effort you are putting in to resolve old concerns and clear out unwanted baggage from the past. Financially as well as emotionally, you'll be pushing for better and fairer agreements with those close. There won't be instant answers or closure, but slowly and steadily you'll move in the right direction. Jupiter will help you understand yourself better and how you played a part in what happened. With this new knowledge you'll find that your self-esteem rises and you start to plot a way ahead which will avoid repeating mistakes. One close partner will be especially affectionate and you'll be in demand socially so there will be fun distractions. After the 22nd you won't be so weighed down by serious matters and will be off in search of adventure.
Year Ahead 2020
Normally a chatty, outgoing sign who thrives on having a wide circle of friends and rarely sitting still, you'll find 2020 a more inward-looking and reflective year. You will be pondering on far-reaching dilemmas - where to go and what to do that will bring you more fulfilment in future. Although there will be barren patches where you can't see clearly ahead, there'll also be times of optimism and exuberance, when you'll see how to turn certain dreams into reality. Try not to hold yourself back by being too blinkered and refusing to listen to feedback. Help and advice will come from an unexpected quarter and possibly in secret, so you'll need to stay open and be prepared to compromise with your old attitudes.rnFrom March you'll feel you've passed a decisive line and be on your way into a new phase, not with spectacular results initially. This will be a slow burn start, as you sort out your priorities. Old friends may find you a touch defensive or retiring but you'll need space to absorb your new found strategy for living.rnNot that you'll be hiding away for long since Venus will nudge you back out onto the party scene between April and August. There'll be invitations galore, compliments and new admirers for those on the lookout.rnA speedy everyday schedule in the second half year will also keep boredom at bay as you surge ahead with renewed vigour. You won't always be tactful if you hit delays or other people's mistakes and will express your opinions with a degree of force. Watch that you're not accident prone since you could be hashing and crashing around in your determination to get everything done in double quick time.rnTowards the year end you'll turn your mind back to friends again, keen to catch up on old acquaintances and to widen your circle in the months thereafter. You'll be keen to find a way of being sensible as well as enthusiastic with both down-to-earth Saturn and expansive Jupiter in your own sign.