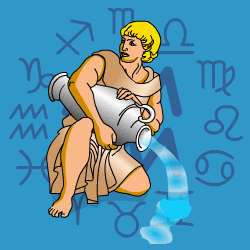 Aquarius
January 21 - February 19
---
Your Birthday Horoscope
IF ITS YOUR BIRTHDAY TODAY your year ahead will be focussed on changes at home and in your emotional life. It'll feel unsettled for a while but ultimately you'll have more freedom to suit yourself. Try not to be weighed down by secret concerns since you may be letting your imagination run away with you and fearing the worst which will never happen. Keep a watchful eye on your personal finances since carelessness or over generosity could cost you. New friends will come into your life nearer next birthday.
Today's Horoscope for Wednesday January 22nd
You probably won't want to be too open, since everyone around seems preoccupied. You may feel they are ignoring you or indifferent to your feelings. But you shouldn't take it so personally. Deep down you know you need to shift certain elements of your emotional or domestic life now to make way for what will bring you more fulfilment in future. If some long running relationships are more distant, it does not mean they will disappear for ever. There will come a time when you can come back together on a better footing.
The Weekly Outlook from 20th January
You will be bouncing around with more enthusiasm and gusto than usual. Having been held back recently by setbacks, delays or just low energy and less motivation you will now be forging ahead.rnMost of us like quite a lot of security and stability, so we get edgy when unpredictable events blow up. What you have to understand when the winds of change blow through, is that it's OK. At home and in your emotional life you have been yearning for more excitement and it will be on offer.
Your Monthly Horoscope for January
High energy friends may be pushy or argumentative at times but they won't let you sit idle. They'll be determined that you should keep planning ahead and not allow past regrets to hold you back. But for all that you will have moments of introspection where you want to shut yourself away and ponder on highly personal and secret matters. Just don't get too inward-looking or isolated since it won't help. There will be helpful advice coming your way from an unexpected source and your own intuition will guide you if you can listen to it in quiet moments. Spending money will be a fun distraction and you'll be tempted by all manner of irresistible treats and indulgences. This is never your best month of the year and you will be sorting out work and practical matters as well as giving yourself quality time for yourself. Sorting out how much energy and attention you want to give to others and how much to yourself will be a question for months to come. Your birthday Sun after the 20th will bounce up your enthusiasm and exuberance. And even a sudden change at home won't be enough to dent your good humour.
and Next Month's Horoscope for February
Revitalised and exuberant, you'll be champing at the bit and raring to go. Having made your good resolutions for the year ahead around your birthday you'll be keen to get cracking. There'll be little to hold you back apart from your own private concerns. Give yourself a shake. Energetic and supportive friends are around for the first two weeks keen to lend a helping hand with support and advice. There'll be thoughtful gestures coming from everyday mates at work and in the neighbourhood as well. It won't be grand passion but you'll feel appreciated. Playing your cards more subtly from mid month onwards will be vital with Mars disappearing into the sign before yours. You'll pull strings behind the scenes and persuade others to fill in where you can't. Not that you'll be idle since a packed schedule in the final days will find you racing around, sorting out domestic situations and being forthright.
Year Ahead 2020
Normally a chatty, outgoing sign who thrives on having a wide circle of friends and rarely sitting still, you'll find 2020 a more inward-looking and reflective year. You will be pondering on far-reaching dilemmas - where to go and what to do that will bring you more fulfilment in future. Although there will be barren patches where you can't see clearly ahead, there'll also be times of optimism and exuberance, when you'll see how to turn certain dreams into reality. Try not to hold yourself back by being too blinkered and refusing to listen to feedback. Help and advice will come from an unexpected quarter and possibly in secret, so you'll need to stay open and be prepared to compromise with your old attitudes.rnFrom March you'll feel you've passed a decisive line and be on your way into a new phase, not with spectacular results initially. This will be a slow burn start, as you sort out your priorities. Old friends may find you a touch defensive or retiring but you'll need space to absorb your new found strategy for living.rnNot that you'll be hiding away for long since Venus will nudge you back out onto the party scene between April and August. There'll be invitations galore, compliments and new admirers for those on the lookout.rnA speedy everyday schedule in the second half year will also keep boredom at bay as you surge ahead with renewed vigour. You won't always be tactful if you hit delays or other people's mistakes and will express your opinions with a degree of force. Watch that you're not accident prone since you could be hashing and crashing around in your determination to get everything done in double quick time.rnTowards the year end you'll turn your mind back to friends again, keen to catch up on old acquaintances and to widen your circle in the months thereafter. You'll be keen to find a way of being sensible as well as enthusiastic with both down-to-earth Saturn and expansive Jupiter in your own sign.