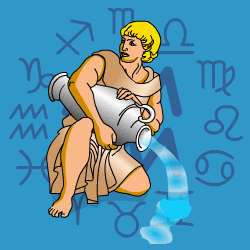 Aquarius
January 21 - February 19
---
Today's Horoscope for Tuesday June 25th
Treat your body like a machine that needs the right treatment, with good fuel and maintenance stops along the way. You need to be fit to crack on through the chores that are piling up in front of you. You may be saying things to others in a way that they don't entirely understand because your words all flow out in a flood. If you could stand back and be a bit more sensible about things, it really would help enormously.
The Weekly Outlook from 24th June
Jupiter, which is a very expansive, confident, high-flying, is across from Venus which wants all the more glittery, sparkly, sociable things of life. Merging their energies may not bring any deep and meaningful experiences, but who cares - it'll be thoroughly enjoyable. You will go well out of your way to avoid mates who get on your nerves. You want interesting conversations with people who are on your wavelength. You want to get certain things straight as simply and quickly as possible.
Your Monthly Horoscope for June
Fun-loving, flirtatious and playful, you fully intend to enjoy yourself for three weeks and why not? This is your time to let your hair down, express yourself freely and sparkle in the spotlight. Loved ones should rally round with votes of appreciation and you'll be in demand on the party circuit for your entertaining abilities. Which isn't to say you won't get diverted from time to time by chores and duty. You won't always feel you are getting the rewards you deserve for your efforts so you'll have to make do with patting yourself on the back. Try not to be a perfectionist since you'll only over burden yourself with needless hassle. And if you get too picky with those around they'll back off and not be there to share your burden. Staying on top form health and fitness-wise is vital since you'll be burning the candle at both ends.rnAfter the 21st you won't be socialising as much and into a steadier few weeks.
and Next Month's Horoscope for July
Knuckling down to hard work won't just be your main concern for this month but for a few after that with the Cancer Eclipse pushing additional chores, even jobs your way. So you'll need to do whatever you can to boost your stamina and keep yourself in good shape. At times you may feel under rewarded and under appreciated for your efforts so taking pride in what you do for its own sake will help. Close partners will be fairly wound up and raring to go which will mean a few differences of opinion at times. Try to throw your energy into co-operative schemes which will save wasting energy. Though it won't always be easy with a few upheavals or sudden changes of circumstance at home and amongst the family. Keeping your less positive thoughts to yourself will help you to overcome a few discouraging days towards mid month. Least said, soonest mended. Then you'll be trying to find a balance between the duty you owe to others and the duty you owe to yourself - not giving so much you end up feeling deprived. There'll be more support and affection coming your way in the final days.
Year Ahead 2019
Looking ahead you'll see rosy glows on the far horizon with great possibilities in the future. A wide circle of enthusiastic friends will be boosting your self-esteem and handing out helpful advice, which may veer to the over-confident at times, so be sure to double check. But for all that you'll be more inward looking, asking yourself in the quiet moment probing questions about what you really want to be doing with your life. Certain old ambitions have lost their fire and you know you need to let them go and find better for the future. You'll also be clearing out old baggage, whether emotional or old attitudes of mind that have passed their sell-by date. The Solar Eclipses early and late will prompt you to dig deeper for answers. House moves are a possibility or renovations and changes in your domestic setup, as you're drawn to a more modern feel for your intimate surroundings. You'll be restless as well emotionally with changes ongoing within the family. At times you may feel insecure as old certainties seem to disappear. But in future you will reconnect where it really matters in a different way. Your finances will be rebalancing from early on as you decide that sharing and caring and co-operating is more sensible than going it alone. Revising your fitness and health routines and regimes will be on your mind from July onwards for several months. Not over-committing yourself and draining your energy unnecessarily will be one tip. Remembering to stay positive another, since your state of mind will affect your body. If you feel discouraged then your physical fitness will sag. As you near the year's end you'll find that you become more contented in your own protective niche and with yourself. Your hunches will prove spot on about how you can give yourself a more fulfilling time ahead.