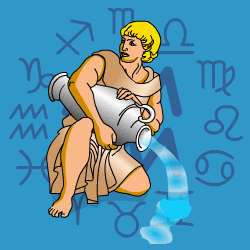 Aquarius
January 21 - February 19
---
Today's Horoscope for Sunday November 17th
You will be enthusiastic in campaigning for your pet causes so you'll be riding into battle, waving a banner and insisting on being heard. Though you will need to push aside your own wishes briefly to ensure that others are getting what they want. Just polish your halo and console yourself with the warm glow that being of service to others brings. And know your rewards will come in the days ahead, when more support is on offer.
The Weekly Outlook from 11th November
The Full Moon falling at the lowest point of your chart is a hint that you need to draw back from too much work to consider your feelings more. You cannot allow your head to over-rule everything and forget your heart. But for all that you'll be in a mood of high enthusiasm, with optimism spilling out. Luck should be on your side, but you do need to understate what you think you can achieve, and you will do better. If you aim too high then you could find nothing works as well as you expect.
Your Monthly Horoscope for November
This is your peak phase of the year so there's no sense in hiding away in a corner or being shy. You need to take courage in both hands and push yourself forward. Demand appreciation for your achievements, praise for your personality and make sure you're taking the lead and indicating others should follow your plans. It won't work all the time naturally but if you don't try you won't get. You'll be spreading your opinions around vigorously to anyone who'll listen. Just remember that gentle persuasion often works better than coming on too strong. But you'll be carried away with your enthusiasm and investment in your pet causes so won't find it easy to stay quiet. Your popularity luckily will be high amongst friends and team mates since you'll have a knack of making everyone feel welcome wherever you go. Into the final days you'll be redoubling your efforts to make your mark.
and Next Month's Horoscope for December
In a friendly, forward-looking three weeks you won't be short of company or advice. You may not be socialising or enjoying romance as much as usual, but you won't be left alone. At times your mischievous spirit will want out to play so you'll speak or act in a provocative way just to make an impact and entertain others. You'll also be laying down the law and sounding bossy at times. Pushing dynamically towards your goals you'll expect everyone around to be as motivated as you and to toe your line. This may not always go down well so try enthusiastic persuasion first before getting too forceful. But you will also become gradually aware in the background of a growing inner contentment and the capacity to be happy in your own company. This comes from Jupiter moving into the sign before yours on the 2nd to stay for a year. It'll help you get perspective on the past and to come to terms with many personal dilemmas. A quieter, reassuring final few days will also have chances to flirt and have fun.
Year Ahead 2019
Looking ahead you'll see rosy glows on the far horizon with great possibilities in the future. A wide circle of enthusiastic friends will be boosting your self-esteem and handing out helpful advice, which may veer to the over-confident at times, so be sure to double check. But for all that you'll be more inward looking, asking yourself in the quiet moment probing questions about what you really want to be doing with your life. Certain old ambitions have lost their fire and you know you need to let them go and find better for the future. You'll also be clearing out old baggage, whether emotional or old attitudes of mind that have passed their sell-by date. The Solar Eclipses early and late will prompt you to dig deeper for answers. House moves are a possibility or renovations and changes in your domestic setup, as you're drawn to a more modern feel for your intimate surroundings. You'll be restless as well emotionally with changes ongoing within the family. At times you may feel insecure as old certainties seem to disappear. But in future you will reconnect where it really matters in a different way. Your finances will be rebalancing from early on as you decide that sharing and caring and co-operating is more sensible than going it alone. Revising your fitness and health routines and regimes will be on your mind from July onwards for several months. Not over-committing yourself and draining your energy unnecessarily will be one tip. Remembering to stay positive another, since your state of mind will affect your body. If you feel discouraged then your physical fitness will sag. As you near the year's end you'll find that you become more contented in your own protective niche and with yourself. Your hunches will prove spot on about how you can give yourself a more fulfilling time ahead.