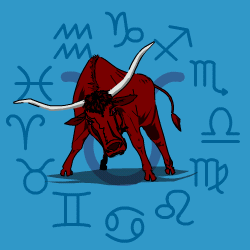 Taurus
April 21 - May 20
---
Today's Horoscope for Monday January 21st
The Lunar Eclipse falling at the lowest point of your chart is a warning that you need to draw back slightly from too much work and ambition to consider your feelings more. You can't allow your head to overrule everything and forget your heart. Slow down find time for your nearest and dearest. You have ambitions to fulfil and pressing commitments, but you also need to lead a more balanced life, where there is play and relaxation as well as work.
The Weekly Outlook from 21st January
You are gaining success at work at the moment, though you may think that others are claiming credit for your achievements. All you really want is to tuck yourself out of sight in familiar surroundings and allow yourself to be indulged. Even your own company will not be a hardship for a short time. Your busy schedule will not allow you to play truant for long, but you must take a break along the way otherwise you will get over stretched.
Your Monthly Horoscope for January
Although the high-flying and adventurous Capricorn Sun is in place for three weeks, you'll be hard pushed to get plans, travel or otherwise, off the ground in a hurry. At times you'll reckon everything is conspiring to hem you in. There may be differences of opinions as well as delays. Luckily your strength is in your ability to just keep trucking, slowly and steadily, allowing nothing to interfere with your ultimate goals. Your feelings will be intense and hidden, so be careful not to exaggerate your reactions to those close. Have a care also with joint finances since you could be over hopeful about one scheme. Then with a jolt and a jangle you'll be free in the final week to take the lead and ensure that you don't go unnoticed. The family may complain they don't see enough of you but you'll have ambitions to push ahead and places to be. A confident though discreet word in the right ear on the 25th will bring a good result.
and Next Month's Horoscope for February
Change what you can and accept what you can't will need to be your motto for the first two weeks with Mars sitting uncomfortably in the sign before yours. You will want to present yourself as a mover and shaker, taking the lead and expecting others to follow, but you'll need to be content with slow progress and some frustrations. Luckily your social life will be light hearted and exciting as you keep fun company and explore new venues and leisure activities. Behind the scenes you'll be aware of ongoing and positive changes, both financial and emotional. Money will filter through with less effort than before. But even more significantly you'll be moving away a restrictive past and moving closer to those who matter most in your life. After an irritating surprise towards mid month, you'll move into higher gear, foot on the accelerator and nothing will get in your way. A wide circle of friends and team mates will be around in the final ten days. More hands make light work so progress will be faster.
Year Ahead 2019
A growing sense of inner confidence and the realisation that your life is changing in positive ways will help you battle against a few challenges. Generosity will come your way from the universe in cash or in kind. Joint ventures will flourish and money will come in with less effort than usual. Better still you'll be dropping your emotional defences and drawing closer to the people who matter most. All of this will sustain you as you get embroiled in differences of opinion and belief. There'll be no quick n' easy fixes or agreements, so you'll need to knuckle down and stand firm for what you know to be true. Travel plans will be subject to delay and disruption so you'll always need have a Plan B up your sleeve. You will want to broaden your mind perhaps taking up new studies or hobbies but they'll need to be serious not frivolous and require intense concentration at points if they are to succeed and be fulfilling. You'll be exerting your independence in an obvious way from March onwards for a long time ahead, not caring what others think or so. You'll walk your own road, dress as it pleases you and be bolder about speaking your mind. Friends and companions who knew the old you will be astonished and in many cases admiring of your stand. Through the humps and bumps of what is likely to be a tricky year for everyone, you'll become increasingly aware that you need to manage your time better, streamline your efficiency and alter the way you communicate if you're to get your views across. Shouting louder won't work. Being persistent and listening to feedback will. Looking after fitness and health will be vital, especially in April and October. You're a stalwart sign so won't be overly affected but even you need to slow down once in a while. By December you'll be flying high and making grand plans for what comes next.