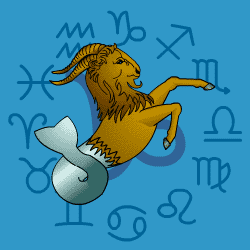 Capricorn
December 23 - January 20
---
Today's Horoscope for Monday March 18th
You will feel passionately enthusiastic about the better things of life - love, leisure, pleasure. Just try not to lay down the law with loved ones since they won't take it kindly. You'll be busy, on your toes, no chance of boredom, with a great deal of variety in your everyday schedule. You will be zapping around at top speed, but try to be more reflective and tactful. Luckily your enthusiasm will help other people and sweep them along with you.
The Weekly Outlook from 18th March
Mars in aspect to Pluto this week does not lead to tensions coming out into the open. Quite the reverse. Everybody will sulk and brood and get bad-tempered. So try to keep your sense of humour handy. From midweek resolve to spend more time at home with loved ones. You need a chance to be indulgent, put your feet up and have a chance for chats with those close. You need to get recent events into perspective and iron out any differences.
Your Monthly Horoscope for March
Racing around an increasingly busy everyday schedule, you'll run the risk of getting into a muddle if you don't stay on top of detail, streamline your efficiency and be clear in getting your message across. Luckily your energy will be high so you'll ensure that no one around will be half asleep or ignoring what you say. When you aren't rushing around talking constantly, you'll be throwing yourself into playing games, having fun and getting your own way. Try to write out to-do lists otherwise you'll not manage to pack everything in. Spending money on treats and extravagances will also be temptation. But you know there are more serious matters on hand that have to be attended to so you won't let yourself get too out of hand. Winding down with relief in the final ten days you'll put your feet up at home and relax more often.
and Next Month's Horoscope for April
Usually bubbling with initiative with several projects on the go, you'll be taking a break for three weeks, giving yourself a chance to wind down and spend more time at home with the family. Putting down roots will be more important than outside ambitions for a while. You'll also have a chance to sit down for heart-to-heart chats with loved ones and to plan any domestic improvements or reorganisation that you've been pushing to one side recently. When you are out and about thoughtful gestures and comments from everyday mates at work or in the neighbourhood will make you smile and you'll be equally charming in response. Into the final few days you'll be kicking up your heels socially and not caring what anyone else says or thinks. You'll go your own way no matter what.
Year Ahead 2019
You're at a crossroads and the eclipses early and late are urging you to decide which path to follow ahead in the years ahead. Standing still and clinging onto the past won't work. Luckily you've got ambition and initiative so will work out a practical plan for what you want to happen. Admittedly within the restrictions of prevailing circumstances which will need to be accepted and worked round. A time for serious thought and then determined action. You'll be more independent-minded for the first few months since you know your choices have to suit you rather than anyone else. Careful consideration will be required since whatever decisions you make will not be easily reversed. In quiet moments you'll notice a growing sense of inner confidence and self-worth, with flashes of inspiration or intuition to guide you. A secret adviser may also appear to help you clarify your thoughts. Loved ones, children especially, may be rebellious, so you'll have your hands full trying to work out how best to cope and give them the freedom they want. Truthfully you'll also want to kick up your heels and have more elbow room socially and romantically. Though your social life will be erratic, switch-on switch-off, exciting one moment and rather sparse the next. There may be muddles and miscommunications in your everyday schedule so you'll need to be precise and double check that what you say is understood correctly and the same for what you hear. By mid year you'll be in a better position to know how to improve your closest relationships. Being less self-sufficient and more adaptable will bring you closer. Though you may also have one partnership under review, as you weigh up the pluses and minuses. Try not to dwell too much on the negative. Loyalty will be more important than passion. Your confidence will soar in the final month with luck coming your way as you recognise you've turned a corner into better times.