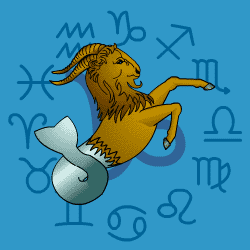 Capricorn
December 23 - January 20
---
Today's Horoscope for Friday September 20th
You will be taking time and trouble to speak in as precise and effective a way as possible. Your ambitions will be helped by your communication skills, though you may at times come across as too cool, not emotional enough. This is a couple of days when other people demand a lot of you. You're having to go out of your way to make sure that everyone is being well looked after. If you feel squashed because of that, give yourself a few treats.
The Weekly Outlook from 16th September
With Mercury now at your mid heaven you'll be practical, methodical, ambitious, serious and focussing on what will be to your advantage at work for a few days. You will have no time for vague discussions which don't go anywhere. Just be slightly more on guard than usual for a few days. You could attract yourself to the wrong kind of people. So double-lock doors and windows. There's no reason to be worried, just sensible.
Your Monthly Horoscope for September
Your sense of adventure will be pulling you along and you'll be keen to broaden your horizons and set yourself more ambitious goals for the future. Spreading your robust opinions around will be another aim as you go into full crusading gear. Try not to be overly forceful with your opinions since it won't always go down well. Your ideas won't always be practical or realistic but this is the time to let your visions soar. You'd prefer to travel to faraway places if you could but if you're stuck then you'll be picking up new interests. There'll be times over confidence pushes you into impulse decisions which later turn out to be not such a hot idea. There will be crossed lines and confused communications as well so speak clearly and always double check that you've heard correctly. Your social diary will feel up fast after midmonth with invites to special occasions. In the final days you'll be into a high-profile few weeks where you can make your mark and attract appreciation.
and Next Month's Horoscope for October
You'll be forging ahead, taking the lead and expecting others to follow along behind. This is your peak profile time of the year when you work extra hard but also gain the recognition and attention you deserve for your achievements and talents. Those close may complain you're being bossy but you'll be keen that everyone works as hard as you do and doesn't idle along. Your popularity amongst friends and team mates will soar since you'll have a knack of making everyone feel good. You won't want tied to just one relationship but to be able to fly free when it suits you socially. At times you may be overly defensive at work and coming on a little too intensely. Into the final week you'll be happy to throw your energy into group activities rather than being out on your own taking the strain. Loved ones may be unco-operative and there'll be an irritating obstacle to overcome.
Year Ahead 2019
You're at a crossroads and the eclipses early and late are urging you to decide which path to follow ahead in the years ahead. Standing still and clinging onto the past won't work. Luckily you've got ambition and initiative so will work out a practical plan for what you want to happen. Admittedly within the restrictions of prevailing circumstances which will need to be accepted and worked round. A time for serious thought and then determined action. You'll be more independent-minded for the first few months since you know your choices have to suit you rather than anyone else. Careful consideration will be required since whatever decisions you make will not be easily reversed. In quiet moments you'll notice a growing sense of inner confidence and self-worth, with flashes of inspiration or intuition to guide you. A secret adviser may also appear to help you clarify your thoughts. Loved ones, children especially, may be rebellious, so you'll have your hands full trying to work out how best to cope and give them the freedom they want. Truthfully you'll also want to kick up your heels and have more elbow room socially and romantically. Though your social life will be erratic, switch-on switch-off, exciting one moment and rather sparse the next. There may be muddles and miscommunications in your everyday schedule so you'll need to be precise and double check that what you say is understood correctly and the same for what you hear. By mid year you'll be in a better position to know how to improve your closest relationships. Being less self-sufficient and more adaptable will bring you closer. Though you may also have one partnership under review, as you weigh up the pluses and minuses. Try not to dwell too much on the negative. Loyalty will be more important than passion. Your confidence will soar in the final month with luck coming your way as you recognise you've turned a corner into better times.