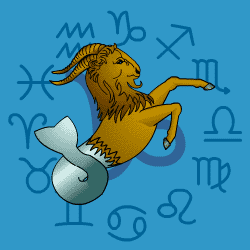 Capricorn
December 23 - January 20
---
Today's Horoscope for Friday July 19th
Your social party chit-chat is even more sparkling than usual, so you will be the general favourite out amongst your wider circle of friends. With Mercury in your opposite sign at the moment you are the diplomat par excellence. Your harmonious way of expressing yourself is doing wonders for your popularity. Your comments and opinions are sensible, so try to rely on your own judgement. You have a tendency at the moment to take other people's views too much into account.
The Weekly Outlook from 15th July
If you feel that nothing is budging an inch do not get discouraged. There are powerful pressures working behind the scenes, which will allow you to turn your life round very soon. This week's Lunar Eclipse in your own sign is significant for close partnerships. You really want more support than you are getting, and indeed the freedom to please yourself. It may be unreasonable but that's the way you feel. Back off briefly to clear your mind.
Your Monthly Horoscope for July
This month will find you at your most determined and secretive as you push slowly ahead against a fair amount of resistance. You know you won't get it all your own way in negotiations over joint financial or emotional matters but will need to be flexible and try to reach a solution that is fair to all sides. But it won't happen overnight. So make up your mind that it may be a few weeks before you see the results of your efforts. By that time you'll be feeling more secure and glad you made a stand for what was right. The Cancer Solar Eclipse followed by a Lunar Eclipse will find you reviewing one close relationship trying to decide what adjustments you need to make to bring you more fulfilment in the time ahead. Loved ones won't always be co-operative and truth to tell you'll have the odd rebellious moment yourself. Just try not to go overboard or cause too many ructions since you won't always feel this independent-minded. You will be in demand socially so you won't be flying solo.
and Next Month's Horoscope for August
Although you'll be secretive, inward looking and fairly serious, you'll also have a glow of inner confidence that others will envy. You won't say much for a few weeks until you have sorted out a few confidential dilemmas, financial and emotional, but will be keeping your own counsel. You know you won't get it all your own way but will have to compromise to reach fair agreements before everyone, yourself included, feels satisfied. So be flexible as well as firm. Gradually you will be coming to terms with the past and feeling more contented within your own skin. Then after mid month you'll start to rev up a head of steam and be shooting ahead. You'll be expressing your opinions enthusiastic, at times forcefully, and be throwing your energy into lifting your life out of a rut. You'll be thinking big and aiming higher, looking for adventure and stimulation, more travel ideally. Socially you'll be looking for excitement and not always in a mood to cooperate with loved ones. Try to be tactful when you want to go your own way.
Year Ahead 2019
You're at a crossroads and the eclipses early and late are urging you to decide which path to follow ahead in the years ahead. Standing still and clinging onto the past won't work. Luckily you've got ambition and initiative so will work out a practical plan for what you want to happen. Admittedly within the restrictions of prevailing circumstances which will need to be accepted and worked round. A time for serious thought and then determined action. You'll be more independent-minded for the first few months since you know your choices have to suit you rather than anyone else. Careful consideration will be required since whatever decisions you make will not be easily reversed. In quiet moments you'll notice a growing sense of inner confidence and self-worth, with flashes of inspiration or intuition to guide you. A secret adviser may also appear to help you clarify your thoughts. Loved ones, children especially, may be rebellious, so you'll have your hands full trying to work out how best to cope and give them the freedom they want. Truthfully you'll also want to kick up your heels and have more elbow room socially and romantically. Though your social life will be erratic, switch-on switch-off, exciting one moment and rather sparse the next. There may be muddles and miscommunications in your everyday schedule so you'll need to be precise and double check that what you say is understood correctly and the same for what you hear. By mid year you'll be in a better position to know how to improve your closest relationships. Being less self-sufficient and more adaptable will bring you closer. Though you may also have one partnership under review, as you weigh up the pluses and minuses. Try not to dwell too much on the negative. Loyalty will be more important than passion. Your confidence will soar in the final month with luck coming your way as you recognise you've turned a corner into better times.