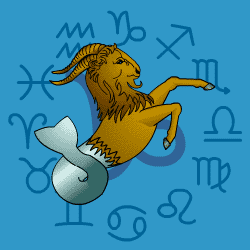 Capricorn
December 23 - January 20
---
Today's Horoscope for Wednesday December 19th
You have a wonderful knack of putting others at their ease, so you are more than welcome wherever you go. But you will demand elbow room. You won't put up with jealousy in any form and will run a mile at the first whiff off possessiveness. Don't hide your oddball streak, since you'll be all the more loved for your originality. Your friendship circle is wider than usual at the moment, with enough exciting personalities around to suit your every mood.
The Weekly Outlook from 17th December
Try to see where all your efforts have made a dent on one situation or maybe even another person. You do want to make a stronger impression and to change the conditions of your life. If you can't see any results yet, you soon will. Everyone around should be responding well to your presence since you are so warm and outgoing. You bring a real breath of sunshine into rooms when you sweep in. Your constitution should feel stronger than usual now.
Your Monthly Horoscope for December
You'll be racing round in ever-decreasing circles in the first week, feeling you're getting nowhere. Doublechecking messages and details will help since you're likely to be carless and mishear what others say. What you really need is to slow down and sit quietly on the sidelines, allowing others to take the strain. But it won't always be possible so you'll need to be determined about clearing quality space for yourself. Warm-hearted friends will make you feel warm and welcomed whenever you are out and about. Keeping your own counsel and saying less will seem sensible after mid month. But you'll offer a sympathetic shoulder to any in need and be told secrets that no one else hears. Just keep planning and preparing since by the 21st you'll be ready to roll into a more go-ahead, confident few weeks.
and Next Month's Horoscope for January
Your birthday sign should give you extra bounce but there'll be too much going on at home, within the family and elsewhere for you to be off on your own pursuits. You'll be reorganising like mad, probably sounding bossy which won't pleased loved ones but you'll be determined to get your intimate surroundings knocked into shape. Certain of your pet projects out in the world will be going slow, so you'll know to pause, backtrack and unpick mistakes before moving ahead. All of which will make you over serious early on and rather defensive on social occasions. The Solar Eclipse in your own sign only comes round rarely and hints that you're at a crossroads and must make key decisions about your path ahead. Your life, your choices. You will be more independent for a few months but try not to push away or shut out those who want to help and be a support. A surprise shift in your circumstances on the 19th will be followed by a few hard choices. But thereafter you'll be keen to pamper yourself which will put a definite lilt in your step.
Year Ahead 2019
You're at a crossroads and the eclipses early and late are urging you to decide which path to follow ahead in the years ahead. Standing still and clinging onto the past won't work. Luckily you've got ambition and initiative so will work out a practical plan for what you want to happen. Admittedly within the restrictions of prevailing circumstances which will need to be accepted and worked round. A time for serious thought and then determined action. You'll be more independent-minded for the first few months since you know your choices have to suit you rather than anyone else. Careful consideration will be required since whatever decisions you make will not be easily reversed. In quiet moments you'll notice a growing sense of inner confidence and self-worth, with flashes of inspiration or intuition to guide you. A secret adviser may also appear to help you clarify your thoughts. Loved ones, children especially, may be rebellious, so you'll have your hands full trying to work out how best to cope and give them the freedom they want. Truthfully you'll also want to kick up your heels and have more elbow room socially and romantically. Though your social life will be erratic, switch-on switch-off, exciting one moment and rather sparse the next. There may be muddles and miscommunications in your everyday schedule so you'll need to be precise and double check that what you say is understood correctly and the same for what you hear. By mid year you'll be in a better position to know how to improve your closest relationships. Being less self-sufficient and more adaptable will bring you closer. Though you may also have one partnership under review, as you weigh up the pluses and minuses. Try not to dwell too much on the negative. Loyalty will be more important than passion. Your confidence will soar in the final month with luck coming your way as you recognise you've turned a corner into better times.