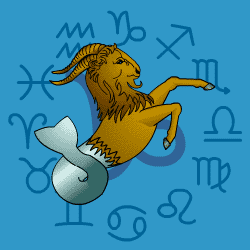 Capricorn
December 23 - January 20
---
Your Birthday Horoscope
IF ITS YOUR BIRTHDAY TODAY your year ahead will be filled with fun friends and high optimism, though you'll be in a dilemma about one close partnership. Leaping to decisions would not be wise. Take your time and see whether your worries pass, or better still work out beneficial agreements between you. Life at home will be unsettled with thoughts of moving, or coping with family surprises. You'll be outspoken partly because of the pressure of your everyday schedule. Slow down.
Today's Horoscope for Sunday January 20th
You will be putting extra effort into getting the budget into ship shape order. You will be determined to earn more or manage what you already have much more sensibly. Though your spending is also likely to shoot up at the moment. The key thing now is to learn the lessons of handling cash successfully. Maybe you will flash it around extravagantly to boost your self-esteem. You want to impress everyone around, but try to save for security as well.
The Weekly Outlook from 14th January
This is a time when you need to let your affections be seen. The lighter-hearted, more romantic, flirtatious side of life is well starred. In areas of your life where you've been compromising too much, the influences around now will break you away from restricting circumstances. You may need a little bit of courage, but at the end of it all you'll be glad that you found the chutzpah to go with the flow and put a foot into the unknown.
Your Monthly Horoscope for January
Your birthday sign should give you extra bounce but there'll be too much going on at home, within the family and elsewhere for you to be off on your own pursuits. You'll be reorganising like mad, probably sounding bossy which won't pleased loved ones but you'll be determined to get your intimate surroundings knocked into shape. Certain of your pet projects out in the world will be going slow, so you'll know to pause, backtrack and unpick mistakes before moving ahead. All of which will make you over serious early on and rather defensive on social occasions. The Solar Eclipse in your own sign only comes round rarely and hints that you're at a crossroads and must make key decisions about your path ahead. Your life, your choices. You will be more independent for a few months but try not to push away or shut out those who want to help and be a support. A surprise shift in your circumstances on the 19th will be followed by a few hard choices. But thereafter you'll be keen to pamper yourself which will put a definite lilt in your step.
and Next Month's Horoscope for February
Charm will get you almost everywhere so keep handing out the compliments and continue to soothe ruffled feathers when you get a chance. Pleasure will be high on your wish list which means indulging yourself on what could prove to be expensive treats. Put aside some time to consider how to improve your personal finances as well. What goes out needs to be topped up again in the piggy bank.rnThere'll be heated moments at home in the first two weeks, partly because you'll be frustrated with outside projects going slow and will take your irritation home with you. Loved ones may also not take kindly to your determined efforts to reorganise. Try not to be overly stubborn or get excitable around the 13th, since you could end up saying more than you intend or trip over your feet in impatience. Thereafter you'll roar into a higher fear with your physical energy and passions rising sharply. Out of what has been a restrictive few weeks, you'll be keen to make fast progress and get your own way. Sweep loved ones up in your enthusiasm rather than sounding bossy and all will be enjoyable. A busy schedule in the final days will find you chatting constantly and going in several directions at once.
Year Ahead 2019
You're at a crossroads and the eclipses early and late are urging you to decide which path to follow ahead in the years ahead. Standing still and clinging onto the past won't work. Luckily you've got ambition and initiative so will work out a practical plan for what you want to happen. Admittedly within the restrictions of prevailing circumstances which will need to be accepted and worked round. A time for serious thought and then determined action. You'll be more independent-minded for the first few months since you know your choices have to suit you rather than anyone else. Careful consideration will be required since whatever decisions you make will not be easily reversed. In quiet moments you'll notice a growing sense of inner confidence and self-worth, with flashes of inspiration or intuition to guide you. A secret adviser may also appear to help you clarify your thoughts. Loved ones, children especially, may be rebellious, so you'll have your hands full trying to work out how best to cope and give them the freedom they want. Truthfully you'll also want to kick up your heels and have more elbow room socially and romantically. Though your social life will be erratic, switch-on switch-off, exciting one moment and rather sparse the next. There may be muddles and miscommunications in your everyday schedule so you'll need to be precise and double check that what you say is understood correctly and the same for what you hear. By mid year you'll be in a better position to know how to improve your closest relationships. Being less self-sufficient and more adaptable will bring you closer. Though you may also have one partnership under review, as you weigh up the pluses and minuses. Try not to dwell too much on the negative. Loyalty will be more important than passion. Your confidence will soar in the final month with luck coming your way as you recognise you've turned a corner into better times.