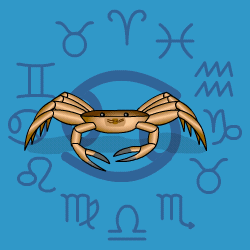 Cancer
June 22 - July 23
---
Today's Horoscope for Monday March 18th
Throwing your energy into team activities at work, you will be independent but happy to be with companions as long as everyone is tolerant. You will get irritated by anyone who tries to take your freedom away from you. Keep moving, but watch where you're putting your feet and also be wary of foot-in-mouth syndrome. If you leap into saying things too sharply, it won't work. But if you are clear in what you're saying, then other people will appreciate it.
The Weekly Outlook from 18th March
You may be feeling powerless about a situation that you don't seem to have much say over. Just don't respond in like kind and try to ride roughshod over other people. Try to find a third way. Maybe your heart is having to take second place to career matters at the moment, but there is a time of year for striving and a time for sinking into familiar surroundings and playing. Just concentrate on what is important for this week.
Your Monthly Horoscope for March
Upwards and onwards will be your motto after a few sticky weeks, you'll be forging ahead with the support of energetic friends and team mates, all pulling together. OK there may be a few differences but they'll be ironed out as all of you know that a joint effort will bring faster results. You'll have your head in the clouds at times, with wonderful fantasies and visions but will need more down-to-earth companions to keep you on the right track. Travel plans may get confused so you'll need to double check all arrangements. And the same goes for communications which may end up in a tangle around the 7th if you're not careful. One close partner will be on hand to ground your enthusiasm to good ends on the 13th so you'll feel pleased with the result of a coordinated push. Just don't take too much for granted mid-month but keep ploughing determinedly ahead. You'll be into a high profile few weeks from the 20th, attracting praise and recognition.
and Next Month's Horoscope for April
In a more prominent, high-profile few weeks you'll be working hard, taking the lead and showcasing your talents and personality. This definitely isn't the time to hide away in a corner or be modest about your achievements. Close partners may not always be on your wavelength or as supportive as you might wish but you'll soldier on determinedly. Luckily your social life will be fun and adventurous with new venues to explore and a different crowd to play with. Good news on the work or health front mid month will put a sparkle back in your eye and those close will be less tricky. Into the final days you'll be invited out to all the best places so will be putting your best foot forward and impressing the right people. Friends will give you advice and be with you at every step of the way. Whatever delays or holdups there are will disappear next month.
Year Ahead 2019
This is a key year for you with Eclipses in Cancer and your opposites sign of Capricorn. You\'ll sense you\'re at a crossroads and need to make major decisions about your path ahead and about close relationships. Partnerships may be strained as the year opens but the loyal bonds will remain steadfast. Only the shaky, flaky ones will go to the wall. What is vital is that you aim to be more adaptable and co-operative in the first half of the year, giving the needs of those close as much attention as you do your own. Health and work look well-starred with Jupiter in Sagittarius till December. You\'ll recover from minor ailments faster than usual and apart from weight gain you\'ll be on top form. More enthusiasm and support in your career will make for fun times with the promise of better pay and conditions. New friends will zip in and out of your life like fireflies - exciting when they\'re there but fairly erratic. They\'ll give you the courage to try out new and exciting ventures. What\'s for sure is that your plans for the future will be changing radically. By mid year you\'ll know certain resolutions which have been bubbling cannot be pushed aside any longer. A more independent phase for a few months will see you making your own choices, which may not always meet with agreement or approval. But you\'ll know that any commitments must be made by you and you alone. A more amiable mood in love and relationships will gradually set in from December onwards pointing to a more co-operative and sociable 2020.