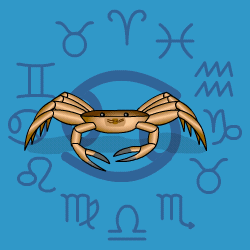 Cancer
June 22 - July 23
---
Today's Horoscope for Tuesday November 20th
You are so exuberant you feel that almost everything you touch will work well. Sometimes you can trust your instincts but at the moment you need to take some of your wilder schemes with a pinch of salt. You need to check that what you are aiming for is realistic and sensible. You will be enthusiastic in promoting your strongly held beliefs. Riding into battle, waving the banner of your pet cause, is one of your main hobbies at the moment.
The Weekly Outlook from 19th November
Don't bite off more than you can chew or over-commit yourself. If you can put down a few limits, you will be really pleased with the end results of your activities. Keeping yourself healthy is always discussed as if it only applied to your body. You know you have to get yourself into good shape physically, but it is also important to look after yourself psychologically. Think about what calms you down, and make sure you schedule that activity into the diary.
Your Monthly Horoscope for November
Your inner sparkle will be out on display as you toss all thought of duty to one side, delegate chores and be off to enjoy yourself. Invitations and compliments will flow your way and you'll relish the chance to soak up the spotlight of attention from loved ones and social mates. Admittedly there will be loose ends to tie up with financial tangles so you will need to attend to confidential matters with firmness for two weeks. Jupiter moving into your chart area of health and work from the 8th for a year ahead will boost your energy, make it easier to recover from minor ailments and bring more enthusiasm around the chores. There will be willing hands to offer support and share the strain. Just have a care not to over eat. From mid-month you'll be keen to seek out adventure and broaden your horizon however you can. You'll be spreading your opinions around with vigour and be pushing your pet causes for all you are worth. Settling back into a steady routine in the final week you'll be heartened by a small triumph.
and Next Month's Horoscope for December
High hopes and very hard work will keep you swinging along and nose to the grindstone till the 21st. You'll be spreading your forceful opinions around in all directions but not always coming across as clearly as you'd imagine. With your head full of vague notions and fantasies, you may find those around look puzzled rather than enlightened. There are likely to be muddles in travel arrangements so you'll need to double check before you set out especially in the first week. From the 12th you'll be focussed on detail, nit picking over mistakes and sounding critical at times but your eagle eye will spot what's wrong which will be helpful. There'll also be a chance to shine socially with your charms attracting admiring glances and compliments. Into the final ten days you'll want more togetherness with a close partner and a chance for romance.
Year Ahead 2018
2018 will find your self-confidence soaring with social invites pouring in along with compliments. You'll be putting a higher value on yourself and finding that everyone else does as well. And your positive and enthusiastic approach will bring praise at work as well. Just don't go wild speculating or gambling, since nailing down your financial security is one of this year's priorities. Save, don't spend to impress; and be pro-active about taking the initiative to improve your long-term security.rnClose partnerships may be cooler. Try not to be critical or negative. Cherish loyalty above passion. It may be that work is interfering with relaxation time, but be grateful that you are rising up rather than the reverse.rnYour path will continue to be winding in terms of career and general life's direction but it'll rarely be boring. If you can be alert for changes and new opportunities, rather than sticking to old ways, it'll bring better results. You will be facing challenges where co-operation is concerned. Try not to be too controlling or indifferent to the needs of those close or at work.rnNeptune will bring you dreams, hunches and insights pointing you down a more spiritual road. OK at times your judgement may be off-beam and you'll have to be wary of relying on gurus or others having all the answers. But you'll be softening your attitudes as a result of your new-found beliefs.rnTravel may be muddled so make sure you always double-check all arrangements and have a Plan B up your sleeve. Late in the year you'll find an exuberant mood around work or the chores and be feeling healthier.