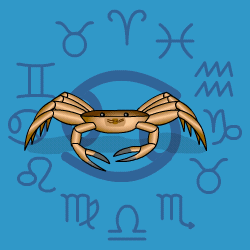 Cancer
June 22 - July 23
---
Today's Horoscope for Sunday May 26th
This is a great time to start new projects since you have the imagination and determination. Though your boredom threshold is low so you may lose interest before you have completed tasks. Try to recruit practical companions to tidy up behind you and keep your initial impetus running. You do want more excitement and adventure in your life, but watch you are not being reckless. You could be accident prone since you are not stopping to consider the consequences of your actions.
The Weekly Outlook from 20th May
Not at your most outgoing and sociable, you will be happiest in the quiet backwaters this week. Even your own company won't be a hardship for short periods. You won't want to compromise now. Co-operating or fitting in with what other people want will not sit easily. You want to do what you want. It's just a question of not being too explosive about the way in which you express yourself to others. Being very blunt and honest isn't always helpful.
Your Monthly Horoscope for May
More hands make light work will be your motto in a friendly, team-spirited and forward looking few weeks. You know you can get certain schemes off the ground on your own and will need to pull strings behind the scenes to get others to do what circumstances are preventing you from actioning. Don't see this as wasted time since you will have a chance to refine certain plans, iron out mistakes and gather yourself together for a more vigorous push in later months. Have a care in the first week that you're not leaping before you look since you'll need to scale down your expectations. Invitations will pour in from all quarters since your knack of making everyone feel at ease means you'll be an amiable companion. One close partner may not seem too passionate or ecstatic but they will be there for you when it matters. After the 21st you'll be clear that letting others take the strain for a while longer will be sensible. Your money making plans will bear fruit if you keep persevering.
and Next Month's Horoscope for June
This will be a stop go month when you know you should take time out to recharge your batteries and get recent events into perspective. But Mars is revving your engine and won't let you sit still for long. Try to find a balance between doing less, standing on the sidelines and letting others take the strain and going full throttle. You will get irritated by delays or anyone that gets in your way and will be speaking your mind forcefully which won't always go down too well. In week two you may get over hopeful about one situation and set yourself up for disappointment, so try to be realistic. One close partner may not always be on your wavelength. Indeed around mid-month you may feel they are being obstructionist. Reacting too strongly will only stretch out the differences between you so saying less and staying calm will be your best option for getting through a sticky few days. Then your exuberance and enthusiasm will return with a fun final few days.
Year Ahead 2019
This is a key year for you with Eclipses in Cancer and your opposites sign of Capricorn. You\'ll sense you\'re at a crossroads and need to make major decisions about your path ahead and about close relationships. Partnerships may be strained as the year opens but the loyal bonds will remain steadfast. Only the shaky, flaky ones will go to the wall. What is vital is that you aim to be more adaptable and co-operative in the first half of the year, giving the needs of those close as much attention as you do your own. Health and work look well-starred with Jupiter in Sagittarius till December. You\'ll recover from minor ailments faster than usual and apart from weight gain you\'ll be on top form. More enthusiasm and support in your career will make for fun times with the promise of better pay and conditions. New friends will zip in and out of your life like fireflies - exciting when they\'re there but fairly erratic. They\'ll give you the courage to try out new and exciting ventures. What\'s for sure is that your plans for the future will be changing radically. By mid year you\'ll know certain resolutions which have been bubbling cannot be pushed aside any longer. A more independent phase for a few months will see you making your own choices, which may not always meet with agreement or approval. But you\'ll know that any commitments must be made by you and you alone. A more amiable mood in love and relationships will gradually set in from December onwards pointing to a more co-operative and sociable 2020.