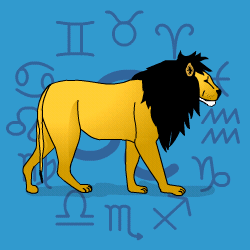 Leo
July 24 - August 23
---
Today's Horoscope for Tuesday November 20th
You will think you can do almost twice as much as usual, and the truth is you can. Not that you will want to do too many routine chores or boring tasks. What attracts you are activities that will give you a sense of meaning. Jupiter which is throwing its expansive influence around, will prompt you to fulfil some greater purpose rather than just slogging through the daily grind. In your personal life, your need to be in charge could lead to disagreements.
The Weekly Outlook from 19th November
You will be feeling optimistic. You think you can do almost twice as much as usual, and you can. You want to fulfil some greater purpose rather than slogging through the daily grind. Fitting in with the crowd has its compensations since you have more people around to flit amongst. But then you lose the rewards of being the sole focus of someone special's attention. You really want both the freedom of a network of friends and the adoration of close partners.
Your Monthly Horoscope for November
Taking life at a leisurely pace, you'll be content to stick close to familiar surroundings and put your feet up at home more often. Too much rushing around recently has left you yearning for a chance to reflect, have heart-to-heart chats with loved ones and concentrate on maters of the heart and domestic comfort rather than outer ambitions. Close partners will be wound up and raring to go till mid-month so you'll need to put some brakes on their wilder schemes or you'll be dragged along in their wake. Your social self-confidence will soar after the 11th so you'll step out boldly not just this month but for the coming year as well. Since you'll be putting a higher value on yourself, you'll find others do to at parties and at work. The only minor caution is not to get over confident in taking financial risks, since your gambling instincts could get out of hand. Entertainment, enjoyment and playing gamers with children will keep you happily occupied in the final week.
and Next Month's Horoscope for December
In a boisterous, sociable and outgoing mood, you'll be sweeping chores to one side and stepping out to enjoy yourself. Loved ones will rally round with attention, affection and compliments so you'll be in your element. Admittedly there will be confidential matters which require effort and strategy. You may not be well served by advice or information coming your way which could be unreliable or deliberately evasive. So you'll muddle along in the first week. But the vital thing is to stand firm until you know you can get a fair settlement that makes all sides feel secure, which will take some flexibility and ingenuity but will be possible. You'll have indulgent times at home snuggling up close to the family and planning to spruce up the decoration. Duty will overtake pleasure in the final days as you put yourself out to be helpful and conscientious.
Year Ahead 2018
2018 has similar Eclipses in Leo and your opposite sign of Aquarius, as they did in 2017, so you will find yourself at a crossroads, where you have to make crucial judgements about what comes next. Sitting down to talk to close partners will help to make the adjustments needed for a fulfilling future, though from mid-year you'll be more independent-minded for a few months, since you'll know the decisions have to be yours, not anyone else's.rnLooking after health and fitness will be vital, since you may overload yourself with work. Learning where your limits are will teach you to pace yourself. Listening to your body does not come naturally to you as a Fire sign, but you won't be able to go-go-go constantly without feeling the effects.rnAdventurous travel will be on your mind, but if you are sitting still, you will still find excitement and stimulation in exploring new belief systems and ideas. And happily you will be able to relax comfortably at home and in your intimate surroundings, feeling more secure and contented within yourself.rnTaking care with finances will be important with Neptune hanging around, since not everyone around will give you reliable advice or indeed be entirely straightforward. Force yourself to double check and don't be gullible.rnNear the year end your social life will reboot into a more vibrant phase. You'll be stepping out boldly with renewed self-confidence to meet a favourable reception from everyone you meet.