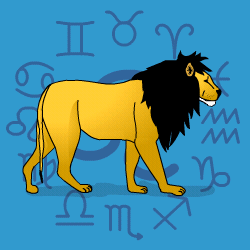 Leo
July 24 - August 23
---
Today's Horoscope for Thursday July 18th
Although you will not be very energetic, you will be feeling sympathetic. You really do want to give close companions what they need. You will be very sensitive to the undercurrents, the subtle feelings in the atmosphere, and that is what is pushing you on to be helpful. You may be yearning for bliss, beauty and wonderful relationships or indeed a stroke of luck to end all your problems. Try to understand that you need to be more realistic and practical.
The Weekly Outlook from 15th July
If there are tensions in relationships, you will need to find a way out of differences without making your actions too obvious. There's always a trick in finding a middle way. Not being too submissive, or being too pushy. Although you really would like to disappear into a quiet space, your conscience is prodding you into being more helpful. Make sure you are looking after your health and energy, since you need to boost your stamina.
Your Monthly Horoscope for July
It'll be a stop start month with plenty to keep you occupied behind the scenes which really requires that you retreat to the side lines and have time for reflection. But with your engine heating up you will find it tricky to sit still for long. Just keep in mind that the decisions you are being faced with now will be with you for a longish while to come. And the insights and inspirations which come will only emerge if you give yourself space. So you'll need to work out a balanced schedule where once in a while you allow yourself to roar into gear. You will need to be on your toes for sudden changes of direction or circumstances since not everything will run to plan. You won't always feel like fitting in or being a team player but try not to rock the boast too hard. Keeping those around in good humour means they'll be on hand when you want more support if your stamina runs out. Into the final days your confidence and exuberance will soar.
and Next Month's Horoscope for August
With a reputation for being exuberant and outgoing, you're not a shrinking violet at the best of times. And this is definitely a high spot with your birthday Sun as well as charming and romantic Venus in your own sign and morale-boosting Jupiter holding hands across the zodiac. So you'll romp through the first two weeks in great style letting nothing damp your high spirits. After mid month you'll still be keen to treat yourself but also to get your personal finances knocked into shape to ensure you'll be secure ahead. You'll need to exert self-control to stop yourself going off on a spending spree. But if you get your ingenuity working you'll find ways of improving your situation and keeping the budget balanced. You know your life is changing direction and although there may be no major upheavals this month there will be hints late on of new possibilities.
Year Ahead 2019
Duty may fight a battle with pleasure and you'll try to manage both but may end up draining your stamina. There will be chores piling up and demands on your time and energy, so you'll need to be firm about where your limits are and not over commit yourself. Any health or fitness issues which turn up need to be handled promptly for best results. Staying on top form physically will be the priority for the first half year. Luckily throughout the year Jupiter in fiery Sagittarius will keep your enthusiasm and self-confidence high, so you'll be in a mood to party as well. You'll be sweeping old self-doubts to one side, putting a higher value on yourself and finding that others do the same. So your popularity at work will increase. You'll sense that your life or your career are changing direction in ways you would not have imagined a few years back. Embrace the new and follow through on any original ideas without fussing too much about others' responses. You won't always be co-operative and will prefer to have your own niche where you can do your own thing. It'll be a time to try out new methods and techniques so don't be a stick-in-the-mud. August will be your high point and hot spot as you throw yourself wholeheartedly into enjoying yourself and making a mark. But in general the second half year will be quieter, with chances to turn inward and get the past into perspective and ponder on what is most personal to you. Throughout the year you'll have lucky breaks where you suddenly find that fortune shines on you, lowering your tension levels and making you smile. A final one turns up in December when more support at work and a health boost will put you on good for the New Year.