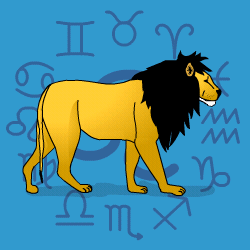 Leo
July 24 - August 23
---
Today's Horoscope for Sunday May 26th
Your emotions are easily stirred at the moment and perhaps you are also harbouring old resentments from the past. Try not to worry and brood. You do have more subtlety and sensitivity than other people and you really won't mind sacrificing yourself on occasion for good causes. Your intuition should be working well. Find quiet time to re-centre yourself and shut out distracting influences. Do a little strategic planning ahead to the time when you can act with greater speed.
The Weekly Outlook from 20th May
At the moment for you there is safety in numbers. You don't want to fly solo or be part of a claustrophobic twosome. The more the merrier as far as you're concerned. Uranus around now can make you want a lot of excitement and you think you'll always want life like this. There's a risk you will burn your bridges behind you, and then later want the old securities back. Use the sense of aliveness sensibly to wake your life up.
Your Monthly Horoscope for May
Always in your element when in a higher profile position, you'll be relishing taking the lead and getting the respect and admiration of the people who matter. OK so you'll have to work extra hard and be responsible but the recognition coming your way will make it worthwhile. Friends and team mates will be generous with their time and energy so you won't be landed with everything to do on your own. Early on you may be inclined to take a risk even speculate where cash is concerned which might not be such a hot idea. Try to keep a grip on your enthusiasm and recognise that not all hunches are accurate. Finding time to push on with your good health resolutions will be important since go-go-going all the time can be draining and you need to boost your stamina when you can. Your social life will bounce into a new phase from mid month with invites to special occasions which will compensate for certain plans being delayed for a while. Keep pulling strings behind the scenes.
and Next Month's Horoscope for June
Filled with optimism and inspiration, you'll be looking ahead and plotting and planning what comes next. A wide circle of fun friends will keep you company and hand out advice. So you'll be networking like mad and staying on the move. Your knack of making everyone feel special will do wonders for your popularity so you'll never be short of invites. Around the 9th try not to get mislead by over confidence or unreliable information coming your way especially over finances. Be cautious and double check. There will be a few dilemmas or problem situations which don't seem to have an obvious solution. Matters may come to a head towards mid month so you'll need to grit your teeth and face a few realities. Perseverance and grit will see you through a few sticky days and after the 21st you'll sink gratefully back into a peaceful few weeks where you'll let others do the running around.
Year Ahead 2019
Duty may fight a battle with pleasure and you'll try to manage both but may end up draining your stamina. There will be chores piling up and demands on your time and energy, so you'll need to be firm about where your limits are and not over commit yourself. Any health or fitness issues which turn up need to be handled promptly for best results. Staying on top form physically will be the priority for the first half year. Luckily throughout the year Jupiter in fiery Sagittarius will keep your enthusiasm and self-confidence high, so you'll be in a mood to party as well. You'll be sweeping old self-doubts to one side, putting a higher value on yourself and finding that others do the same. So your popularity at work will increase. You'll sense that your life or your career are changing direction in ways you would not have imagined a few years back. Embrace the new and follow through on any original ideas without fussing too much about others' responses. You won't always be co-operative and will prefer to have your own niche where you can do your own thing. It'll be a time to try out new methods and techniques so don't be a stick-in-the-mud. August will be your high point and hot spot as you throw yourself wholeheartedly into enjoying yourself and making a mark. But in general the second half year will be quieter, with chances to turn inward and get the past into perspective and ponder on what is most personal to you. Throughout the year you'll have lucky breaks where you suddenly find that fortune shines on you, lowering your tension levels and making you smile. A final one turns up in December when more support at work and a health boost will put you on good for the New Year.