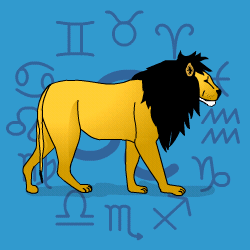 Leo
July 24 - August 23
---
Today's Horoscope for Wednesday December 19th
Home is where your heart is and you adore nothing more than being on your own territory, surrounded by the family and close friends. Entertaining at home suits you better than being out and about at social events. More sensitive and emotional than usual, you will have an intuitive feel for whatever is happening, though you may over-react, and feel hurt by even the slightest whiff of criticism. Your lazy streak will be more obvious than usual at the moment.
The Weekly Outlook from 17th December
If you have left loose ends around, face up to them and sort them out. Try to get everything organised more sensibly. You will find that what comes out of this time will be to your benefit. But you're going to have to be strategic. Maybe you will feel resentful because you are not being given all the appreciation your would like. But you can be pleased doing a good job for its own sake, rather than gaining success in the world.
Your Monthly Horoscope for December
In a boisterous, sociable and outgoing mood, you'll be sweeping chores to one side and stepping out to enjoy yourself. Loved ones will rally round with attention, affection and compliments so you'll be in your element. Admittedly there will be confidential matters which require effort and strategy. You may not be well served by advice or information coming your way which could be unreliable or deliberately evasive. So you'll muddle along in the first week. But the vital thing is to stand firm until you know you can get a fair settlement that makes all sides feel secure, which will take some flexibility and ingenuity but will be possible. You'll have indulgent times at home snuggling up close to the family and planning to spruce up the decoration. Duty will overtake pleasure in the final days as you put yourself out to be helpful and conscientious.
and Next Month's Horoscope for January
Hard work won't be in short supply so looking after stamina and fitness is a priority. You'll be spouting your opinions in all directions, your head filled with adventurous plans and pet causes you want to promote. But you'll need to pace yourself since chores will pile up and you'll know by this time that you can't push yourself physically too far. Learning where your physical limits are and when to say no is one of this month's hints. The other piece of advice is to avoid confrontations at work and elsewhere. You'll only end up locked in unwinnable arguments. So take the long route round and use some subtle ingenuity in getting your own way. It won't be a singing and dancing month but romantic Venus will bring a ray of sunshine from the 7th in Sagittarius. There will be fun social occasions and party invites to bounce you into good humour. The Lunar Eclipse on the 21st will pose a dilemma about a close relationship. Nothing can be decided in a hurry so weigh your options and see whether you couldn't change your approach. You'll be in a lively mood thereafter with more energy.
Year Ahead 2019
Duty may fight a battle with pleasure and you'll try to manage both but may end up draining your stamina. There will be chores piling up and demands on your time and energy, so you'll need to be firm about where your limits are and not over commit yourself. Any health or fitness issues which turn up need to be handled promptly for best results. Staying on top form physically will be the priority for the first half year. Luckily throughout the year Jupiter in fiery Sagittarius will keep your enthusiasm and self-confidence high, so you'll be in a mood to party as well. You'll be sweeping old self-doubts to one side, putting a higher value on yourself and finding that others do the same. So your popularity at work will increase. You'll sense that your life or your career are changing direction in ways you would not have imagined a few years back. Embrace the new and follow through on any original ideas without fussing too much about others' responses. You won't always be co-operative and will prefer to have your own niche where you can do your own thing. It'll be a time to try out new methods and techniques so don't be a stick-in-the-mud. August will be your high point and hot spot as you throw yourself wholeheartedly into enjoying yourself and making a mark. But in general the second half year will be quieter, with chances to turn inward and get the past into perspective and ponder on what is most personal to you. Throughout the year you'll have lucky breaks where you suddenly find that fortune shines on you, lowering your tension levels and making you smile. A final one turns up in December when more support at work and a health boost will put you on good for the New Year.