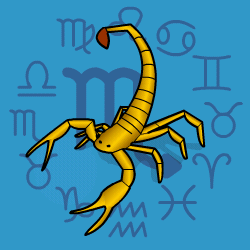 Scorpio
October 23 - November 22
---
Today's Horoscope for Saturday April 20th
You will want to share and care more with the Sun now in your opposite sign. Togetherness will be the key to your happiness both at home and at work, so you'll be making an effort to look after loved ones' needs. Though at times you may be too analytical about your feelings, standing back to dissect them rather than plunging into emotional situations around you. If you can let go, you would find deeper connections and more fulfilling relationships.
The Weekly Outlook from 15th April
Early on you will be feeling contented, harmonious and rather lazy. It may not last long but the moment will be worth savouring. If anyone around is low, you will cheer them up in an instant. Towards the weekend you may feel deprived because no one is reciprocating. Feeling resentful only means you feel worse, and companions don't appreciate your gestures since they seem forced. Give yourself the odd treat to boost your spirits, and it will all work much better.
Your Monthly Horoscope for April
You'll fit in time for flirting, having fun and partying in a busy schedule. But mainly it'll be hard grind and having to be dutiful. So you'll need to put as much attention towards health and fitness as you towards cracking on through the chores. It won't feel too glamorous and there will be some obstacles to overcome including communication breakdowns just before mid month. Being diligent and persistent, repeating yourself where necessary, will see you through. As will keeping your sense of humour handy. So lighten up. Money will come through for treats to put you in brighter spirits. Into the final days you'll be less drained energy-wise and better supported by close partners, though you can expect sudden surprises from one partner. Give them a long rein and be tolerant. Over eating could be a minor hazard since you'll be tempted by richer and sweeter food.
and Next Month's Horoscope for May
Togetherness will be your theme with the Sun, followed by Mercury and Venus moving through your opposite sign. Sharing, caring, relating and co-operating will be the way to go for several weeks. Out on the social scene you'll be in demand since your knack of making everyone you meet feel special will see your popularity soaring. There will also be times when a more serious approach is needed as you push up against a few challenging situations. Being firm and flexible will see you to better agreements and more security by mid month. After which you'll be able to fly higher and aim to inject more adventure into your life. Just don't go too wild financially since you could get carried away by one temptation. After mid month one special partner will be on hand to shower you with love and affection, as you push on sorting out private and personal concerns.
Year Ahead 2019
A non-stop-go schedule for the first half year means you'll need to manage your time well, get organised and communicate clearly. Too much rushing around can run the risk of messages getting lost or misunderstood. If you feel cold-shouldered or that your views are not getting the right kind of attention then you'll need to rethink your approach. Don't become discouraged and withdraw. Be persistent. Close relationships will be moving into a changeable phase where both of you need more elbow room. With tolerance and an appreciation of partner's need for more independence as well as your own, you'll manage well. Though with the pressure of events and pulls on your time and energy, you may not always have a chance for sensible heart-to-heart chats. When you do, you may express yourself a touch too forcefully or be looking too much on the negative. Lighten up and keep your sense of humour handy. If loved ones, especially children, come across as evasive or inaccessible, not there when you need them, or worse try to lean on you, be firm about them standing on their own two feet. After mid year you'll want to shrug off restrictions and fly higher, allowing your imagination and sense of vision to point your way ahead. You'll find more stimulation and adventure and be broadening your horizons with determination. August will be a month to flaunt your talents and push ambitions ahead vigorously. Money should roll in faster all year though it'll probably disappear as fast since you're likely to be spending happily. Try to save some of your good fortune for a rainy day in later years. In the final month you'll notice more smiles and morale boosts in your everyday schedule. You'll be increasingly tolerant and positive-minded which will prove a hit with those around.