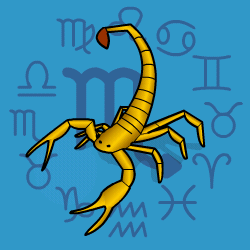 Scorpio
October 23 - November 22
---
Your Birthday Horoscope
IF ITS YOUR BIRTHDAY TODAY your year ahead will be a time to give yourself more elbow room and not feel you have to compromise as much as in the past, over relationships or other ambitions. Your everyday schedule will be challenging and pressured though should ease up after the New Year. You'll be persuasive but more so if you can lighten up and be less intense. From the New Year you'll have a chance to focus on home and family matters and sort out practical and emotional dilemmas.
Today's Horoscope for Monday October 26th
You will be good at mental activities, where a sharp eye, and the ability to put ideas across clearly is valued. You will have a low boredom threshold, keeping on the move constantly, chatting as you go. Though oddly enough you may also be possessive, clinging onto those close, since the Pisces Moon makes you impressionable and at times dependent but it won't be wise. Have your entertainment and enjoyment without pinning close mates down, otherwise they'll skip off elsewhere.
The Weekly Outlook from 26th October
Love may not come easily because you are holding back, maybe over sensitive to rejection. You feel you would rather shut yourself away than let your feelings be seen. Maybe you do need a quiet time, just don't let opportunities for romance slide by because you cannot force yourself to speak out about what you need or who you fancy. If you have been sweeping tensions under the carpet or being forced into situations that aren't what you want, now is the time to make changes.
Your Monthly Horoscope for October
A challenging schedule with chores piling up and demands on your time coming from various directions you'll be stretched. Really you'll prefer to step back and let others take the strain and do the running around. But you won't have much option and your own perfectionist streak will make it tricky when it comes to delegating since you reckon no one else can perform tasks as well as you can. Try not to over commit yourself and take time out to recharge your batteries and look after fitness and stamina. You will have a few lucky breaks and fortunate encounters along the way to boost your morale but you need to be wary of a tendency to become too intense or dogmatic. Lightening up will bring you more support from everyday mates. Warm-hearted friends will also be there when you want them and will make you aware how popular and appreciated you are. Finally from the 22nd the restrictions will lift and you'll be bouncing with renewed vigour.
and Next Month's Horoscope for November
Zipping along on good form with your birthday Sun in place, you'll be making good resolutions for your year ahead and finding that you're getting attention whatever you do. Companions will sit up to take notice when you come round and you'll reckon you have the force of personality to be persuasive. Admittedly for the first few days you may be holding conversations in private rather than speaking out directly but after the 10th you won't hold back. Your confidence and forceful way with words will win the day as you move towards the middle of the month. Your upbeat and optimistic manner coupled with implacable determination will sweep obstacles and arguments to one side and no one will shout you down. Hard work will continue to be on the agenda until early January so you'll need to pace yourself and ensure your keep fit regimes are running. Your social life will bounce back to life in the final few days with invitations and compliments rolling in. You'll also be casting an eye over your finances to ensure you have all the details nailed down.
Year Ahead 2020
2020 will be all about communication for you in an everyday schedule that will be challenging and pressured at times. You'll be inclined to take certain situations or comments to heart, looking for a hidden significance in everything. And being tempted to withdraw if your opinions don't meet with agreement. But it would be a mistake. Listen to feedback and where necessary alter your approach. Try, try, try again should be your motto and you will eventually get your message across. Gradually you'll notice a growing sense of confidence in speaking your mind and because you'll be tolerant and less blinkered, you will be respected for your views. And you'll begin to realise that what was holding you back wasn't bad luck but too limited an attitude on your side.rnYou will want more elbow room in close partnerships with each of you happy to allow the other to go their own individual way. It will mean that co-operation won't always be easy since it'll demand compromise. At home you'll be putting in effort after March to sort out practical problems and also to address any family tensions which emerge. If you go about it tactfully then you can clear old resentments out of the way once and for all. Though it won't always be easy to stay calm.rnFrom July onwards you'll be working exceptionally hard and staying on top of detail. You will tend to be a perfectionist, assuming you're the only one who can do tasks well, which means you'll land yourself with too many commitments. Looking after fitness and stamina will be important. And being cautious, since you could be slightly accident prone at times if you over burden yourself or get impatient with mistakes and end up tripping over your feet.rnTowards the year end you'll focus on your finances since being pro-active will bring results and be aiming for a calmer phase on the home front.