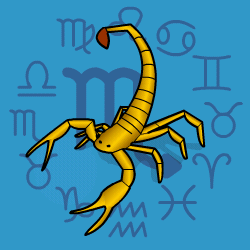 Scorpio
October 23 - November 22
---
Today's Horoscope for Friday February 22nd
If you can stay flexible, tolerant and open-minded then all your working relationships will go with a swing. Just don't exaggerate your prospects or promise the earth. Your confidence around money is inspiring for companions at work who see you as honest and successful, though you watch a tendency to be over optimistic. You don't mean to mislead but maybe you aren't thinking through the practical consequences of your financial schemes, and letting your enthusiasm carry you off into unrealistic schemes.
The Weekly Outlook from 18th February
This week you will be more dramatic, fun-loving, attention seeking than usual. Being out sparkling in the spotlight will boost your morale and make you feel revitalised. Although you really want the chance to flirt, have fun and enjoy yourself, you may have a niggling thought about sorting out a few longer term schemes. If you play away the day, tomorrow may not look after itself. So try to find time for a little planning as well as wholehearted entertainment.
Your Monthly Horoscope for February
Tucking yourself out of sight at home or in a protected corner will keep you content for three weeks. This is your time to slow down, step back and have a chance for calm reflection on recent events, as well as snuggling up close to those who make you feel appreciated. Putting down roots and making your domestic setup more comfortable will be your priority. Too many chores for the first two weeks will be a distraction, so try not to be too perfectionist or over commit yourself by thinking only you can do tasks well.rnThoughtful gestures from everyday mates in the neighbourhood or at work will make you feel appreciated and you'll respond by handing out compliments in return.rnLooking after health and fitness will be crucial since Mars in Aries is causing a degree of stress and strain till mid month. Thereafter you won't feel as drained with close partners pitching in with assistance. You may find their direct approach a touch wearing but accepting their support means less work for you. Into the final ten days you'll be singing and dancing, in a mood to party, flirt and have fun.
and Next Month's Horoscope for March
Letting your inner spark shine out will be more important than anything else in weeks when you need to cast off self-doubts and step out boldly. Love, laughter, entertainment and children will be the main focus of your attention. OK at times you'll be disappointed because not all of your dreams will come true and certain loved ones may prove weaker or more dependent than you had expected. Tell them gently to stand on their own two feet and tell yourself to be more realistic in future. Your closest partner will be firing on all cylinder so throwing your energy behind their plans will make for faster progress. It will mean keeping the peace rather than arguing constantly but it'll be worth the effort to smile and say less. Treating yourself midmonth may cost more than you expect but you won't care. Into the final ten days you'll be playing less and working more.
Year Ahead 2019
A non-stop-go schedule for the first half year means you'll need to manage your time well, get organised and communicate clearly. Too much rushing around can run the risk of messages getting lost or misunderstood. If you feel cold-shouldered or that your views are not getting the right kind of attention then you'll need to rethink your approach. Don't become discouraged and withdraw. Be persistent. Close relationships will be moving into a changeable phase where both of you need more elbow room. With tolerance and an appreciation of partner's need for more independence as well as your own, you'll manage well. Though with the pressure of events and pulls on your time and energy, you may not always have a chance for sensible heart-to-heart chats. When you do, you may express yourself a touch too forcefully or be looking too much on the negative. Lighten up and keep your sense of humour handy. If loved ones, especially children, come across as evasive or inaccessible, not there when you need them, or worse try to lean on you, be firm about them standing on their own two feet. After mid year you'll want to shrug off restrictions and fly higher, allowing your imagination and sense of vision to point your way ahead. You'll find more stimulation and adventure and be broadening your horizons with determination. August will be a month to flaunt your talents and push ambitions ahead vigorously. Money should roll in faster all year though it'll probably disappear as fast since you're likely to be spending happily. Try to save some of your good fortune for a rainy day in later years. In the final month you'll notice more smiles and morale boosts in your everyday schedule. You'll be increasingly tolerant and positive-minded which will prove a hit with those around.