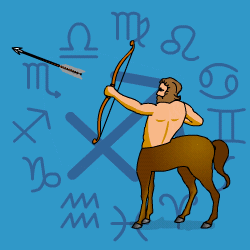 Sagittarius
November 23 - December 22
---
Today's Horoscope for Wednesday August 12th
You will have more influence on the people around you than you realise. Your single tracked determination will push you on and at times take you down a winding path. You may have a pressing concern about money which is nagging at you. Try to understand that your situation isn't a disaster. It's more your attitude that is causing you to worry. If you push hard and dig in your heels if partners want to overspend, then you'll turn your situation around more quickly than you expect.
The Weekly Outlook from 10th August
You can start to build better securities for yourself and those close, financially and emotionally, though you will have to understand what went wrong in the past. If you keep doing things the old way it won't work. You need to clear the decks, and start again. Try to ease back and wind down. Understand that there are things in life you can achieve, but sometimes progress is slower than you might like. Getting into disagreements and power struggles will not be helpful.
Your Monthly Horoscope for August
With the Sun in Fire Sign Leo and Mars in fiery Aries, you'll be raring to go and have no intention of letting anything or anyone stand in your way. Broadening your horizons, raising your sights higher and thinking big will be your mottos. Your schemes may not all be realistic or practical and some may have to be abandoned down the road as unworkable but you will have fun following your vision. Your dynamic energy will be spilling over so you'll sweep loved ones up in your enthusiasm and at times come across as a touch bossy, but if you play your cards right they rally round and fit in. Take the first week cautiously since you'll be inclined to over react to a surprise turn of events and then decide to throw advice to one side and spend liberally. A few days later you may regret you were so bold and will want to backtrack or circumstances will prompt you to pull in your horns. Keep in mind that your peak few weeks of the year at work and in your community activities starts on the 23rd so you'll need all your ducks in a row before then as you move into actioning your plans. One cash problem will prove irritating but there's no sense in flaring up. Persevere and you'll win through.
and Next Month's Horoscope for September
You'll have no intention of hiding away your talents or skulking in a corner. This is your time to shine, demand more appreciation and recognition and take the lead. If you play your cards right you'll persuade others to follow along behind and be the one who makes a difference. Not only will you find praise comes your way, you may also get rewards in an improved financial position. Cash may slide through your fingers quickly at times but you'll also redouble your efforts to make more and organise what you have more sensibly. Your social life will undergo a revival so your mood will lighten after the 6th with fun company and new leisure activities to explore. There may be a moment's disappointment at home as a family member does not act as you expect. But it'll pass so you'll do best to forgive and forget. After the middle of the month you'll sense that a more stable situation is emerging, mainly due to your stalwart efforts. After the 22nd you'll be surrounded by friends and looking ahead with optimism.
Year Ahead 2020
2020 needs to be your feet-on-the-ground year which isn't where you are happiest being a fiery, chatty sign. But needs must the practicalities, especially financial, are your priority. There's a real mixter maxter of influences around suggests setbacks, some austerity and some greatest successes. So there'll be great, not so good and indifferent patches. Being sensible and reorganising your long term security needs to be your first aim. Nothing will be achieved overnight so you'll need to be patient and persevere. Oddly enough not being overly controlling will also help the flow. If you hang on too tightly then everything will jam up. And last but not least you will have luck coming your way bringing larger lumps sums than expected your way, notably in March, June and November.rnUranus will be bringing sudden changes at work so you'll need to stay flexible and be ready to grasp new opportunities when they present themselves. Try not to get too uptight with fast-changing situations. Normally you enjoy adventure and the thrills of a varied schedule but you may find yourself wishing for a more peaceful existence.rnThe love and affection of a close partner will boost your morale from April onwards for a few months though there may be a few disappointments at home as loved ones in the family don't behave as you expect. From July your passionate enthusiasm and physical energy will soar and you'll be firing on all cylinders, keen to enjoy yourself and get your own way You won't always be tactful and those close may object to being bossed around but you won't care. You'll expect everyone to be as lively as you. Just don't be too headstrong or rash when playing games ands racing around since you could be slightly accident prone. You may also be overly impulsive on the cash front, wanting to spend to impress.rnLate year you'll focus on partner's needs, aware that you need to be less self-sufficient and more adaptable in the months thereafter.