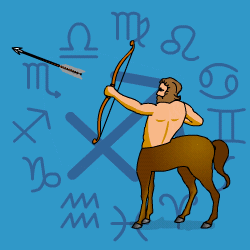 Sagittarius
November 23 - December 22
---
Today's Horoscope for Sunday May 26th
You will be determined to get your own way where emotional matters are concerned. You have taken a while to make up your mind and now that you are on track you don't intend to budge. You do have to watch a tendency to fight to the bitter end in confidential discussions, which can sometimes be counter-productive. If there is a crisis you will handle it well since you can muster up a good deal of courage and a cool head.
The Weekly Outlook from 20th May
You will find yourself more sensitive to the needs of others this week, so will be able to help them. At work you prefer to work in a one-to-one partnership rather than on your own. You will be going out of the way to steer well clear of people who are likely to be tying you down. This is a time of personal growth, new insights and better times to come if you allow yourself to step across old fears.
Your Monthly Horoscope for May
Sorting out the nitty gritty and dotting i's and crossing t's isn't exactly your strong point, but needs must for a few weeks as practical matters take up your attention. Your personal finances will benefit, not spectacularly but modestly, from a steady approach. Putting as much attention to staying fit and healthy as you do towards the chores will help to keep you buzzing along. Close partners will be wound up and raring to go and they will also be argumentative so you'll need to keep the peace. Throwing your energy behind their schemes in a co-operative effort will pay dividends and save wasting time on bickering. Over eating could be a minor hazard after mid month as you'll be tempted by richer and sweeter food. Try not to get obsessed when a financial or emotional dilemma appears to have no solution. If you keep pushing and use your ingenuity, then eventually you'll make headway. In the final days close partners will be prepared to lend a hand and more support.
and Next Month's Horoscope for June
Normally a free spirit at heart, you'll be more inclined to stick close to partners now, wanting togetherness for support and sharing. You'll be in demand socially since you'll make others feel special and compliments will make your head spin. All of which sounds lyrical and lovely. The But is to do with Mars tucked away in the most confidential area of your chart which behind the scenes is causing grumbles of discontentment either over money or your love life. You'll need to keep your famed honesty in check since being outspoken won't help you make progress with finding solutions. You'll veer from being overly optimistic in week two to the opposite in week three. Try to find a balance and be realistic. You'll steady down in the final days, keeping your own counsel and playing a long game.
Year Ahead 2019
With lucky, expansive Jupiter, your ruler, in your own sign for eleven months, you'll have moments of soaring confidence. Better relationships in general and resources coming your way are the gift of Jupiter, and also the message that what you give out comes back to you ten-fold. For all that you'll be preoccupied with tedious matters like money. Tightening your belt and cutting out indulgences will need to be the order of your budget as you instil more order into your finances with an eye to your longer-term security. It'll take perseverance and grit to move ahead with your plans but where there's a will there's a way. At work you'll notice a new spirit of defiance as you opt for a niche where you can follow through on your own ideas and not always be feeling others' instructions. You'll want to spread your wings and be free to suit yourself which may cause a few waves, but you won't care. Where health is concerned, you may be a touch nervy or highly strung so finding ways of winding down and re-centring will help your physical stamina. At home there may be a few muddles or disappointments since not everything will be coming up to expectation. Try to accept that perfection isn't possible and reality takes a bite out of every dream. Be happy with what you have and be forgiving if loved ones are sometimes preoccupied or evasive. Finding a new way of sharing, caring, relating and co-operating will be key to the second half year with the Cancer Solar Eclipse shining a light on all joint ventures, financial and emotional. Old habits die hard so it won't all be easy but if you can make a super-human effort to change then you'd find more fulfilment and satisfaction as the months go on. Money will finally start to come in faster towards the year end, setting you up for a more prosperous 2020.