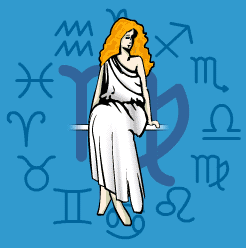 Virgo
August 24 - September 23
---
Today's Horoscope for Sunday February 25th
You've got a little bit more of a twinkle in your eye and a lilt in your step. This can mean you are off to make mischief but you can also pushing ahead with your favourite projects and sweep other people up in your enthusiasm. Where cash is concerned do have a slight care since your judgment may not be very wonderful. If you attempt any tasks that require a huge amount of clear-thinking or attention to precise detail, you won't do them well.
The Weekly Outlook from 19th February
You will want to share and care more this week. Togetherness will be the key to your happiness both at home and at work. Try not to let yourself get diverted from your real priorities, since you may feel rather spaced out. You want to believe the best of everyone, which is very charitable but may not be entirely wise. It is important not to turn yourself into a doormat, no matter how kind or compassionate you feel.
Your Monthly Horoscope for February
An earthy workaholic sign you always thrive when faced with a pile of chores or any situations requiring reorganization. So you should be in seventh heaven now with not just the Sun but also a Solar Eclipse in your chart area of work. But remember that is also the area that rules health. So boosting your fitness and stamina, remembering where your physical limits are, and not over pushing yourself will be important. Jupiter will help by keeping your morale high but it also has a tendency to get too enthusiastic and embark on overly ambitious schemes that can't possibly be accomplished in the blink of an eye. Pacing yourself and tempering your expectations will help. Close partners will be affectionate and you will be in social demand for your knack of making everyone feel special. Burning the candle at both ends will require surplus energy, so eat sensibly. The atmosphere at home won't always be calm, but try not to rise to the bait and get involved in differences with family members. From the 18th you'll get more support from close partners and together you'll make faster progress.
and Next Month's Horoscope for March
Close partners may be elusive, preoccupied or downright evasive early on but you'll insist on getting support so they'll snap into focus. Togetherness will be the key to your happiness, so being less self-sufficient and more adaptable will pay off. For all that you will be playing certain cards close to your chest since there will be situations where only you know what you want. Loved ones, especially children, will be demanding and you may feel weighed down at times trying to keep a lively social life running. After mid-month your energy and passionate enthusiasm will soar. You'll bounce out intending to make your mark and get your own way. Remember that instant answers won't come no matter how hard you push. So enjoy the fun moments and continue to push hard behind the scenes to resolve problematic situations. In the final days you'll be ultra-determined and not letting on to any but those close exactly what is on your mind.
Year Ahead 2018
A busy busy, varied and enthusiastic everyday schedule will keep you on the run and never bored. Always a great chatter, you'll be communicating with even more exuberance and finding that your new more positive and tolerant approach is paying dividends. Suddenly your world will seem a brighter place with new contacts and fun encounters along the way.rnThere'll be less time for fun and social high-jinks since duty will get in the way and you may find it more difficult to be spontaneous and outgoing. Make the effort. You all too easily fall into being a workaholic. Remember you're an Earth sign and they always need some indulgence before they feel happy. Those close may be landing heavier responsibilities on you which will teach you valuable lessons about love. In giving to others you give to yourself.rnOne close partner will be vague, preoccupied or even downright evasive. And truthfully you won't be too sure of how committed you want to be. Search out more spiritual connections and you'll be more satisfied.rnJoint finances will continue to be up and down, sometimes great and at other times unexpected expenses will throw your budget out. So plan to save when there is surplus to tide you over the leaner times.rnThe first half year will be hard-working so you'll need to be on top efficiency form, as well as boosting your fitness and stamina when you can. After mid year you'll want more time for private reflection, to put the past into perspective.rnYou'll also from July be keen to widen your circle of friends and to be a better networker. Perseverance will pay off. Late in the year you'll be more content within yourself, relaxing happily at home, even in your own company. And planning how to expand your domestic setting to allow for more entertaining.