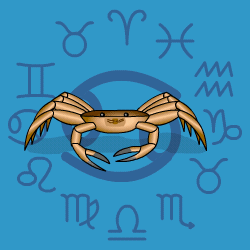 Cancer
June 22 - July 23
---
Today's Horoscope for Tuesday December 12th
Even if you're on your own for a short while, it won't bother you because it gives you a chance to get your head together about one or two things and see what you need to do for yourself. Maybe you are feeling resentful because you are not given all the appreciation you might like or higher rewards for your labours. But you'll be better pleased doing a good job for its own sake, rather than gaining success and glory in the world.
The Weekly Outlook from 11th December
You're coming out with your honest opinion this week. You're just able to be yourself and tell people, "You've got to accept me as I come." You're very tolerant of others and you expect them to do the same for you. You will be wonderfully diplomatic. You will be writing letters you've been leaving to one side, pouring oil on troubled waters, and telling the wonderful people in your life how positively you feel about them.
Your Monthly Horoscope for December
A sudden change of direction early on may put the cat amongst the pigeons at home. Try not to get irritable with family members since it won't be their doing. Just keep tidying and reorganising for a week and then you can head off for fun. Travel plans may be confused so make sure you double check everything before you set off. Then Mars moving into Scorpio from the 9th will zip up your energy and your passionate enthusiasm and you'll set sail to enjoy yourself for a few weeks ahead. You may come across as bossy towards loved ones since you'll want them to fit in with your wishes, so you may need to tone down your approach at times. Along the way you'll be working hard, paying attention to detail and being practical. In the final days you'll notice a shift in your closest relationship with an emphasis on loyalty rather than open affection. Don't be critical. Just value what is on offer.
and Next Month's Horoscope for January
Togetherness will be key to your happiness but co-operation won't be easily maintained with Saturn and Pluto around. Try to avoid being negative or critical, prize loyalty above passion, and be firm with yourself as well as close partners about not trying to manipulate one situation. Luckily your morale and confidence will stay high with social invitations and compliments pouring in. Your exuberant approach will go down well with almost everyone, so you'll be able to push away self-doubts and step out boldly. Putting a higher value on yourself will prompt others to do the same. There will be a surprise change of circumstances around midmonth. Try not to over react or be too impulsive. Think carefully about the consequences about what you want to do and then act. Setbacks can often be opportunities in disguise. From the 18th you'll be keeping your feelings to yourself and will be more emotionally intense than usual. Sorting out confidential and secret matters will be a priority for several weeks ahead.
2017 Year Ahead
Two factors will make 2017 an improvement on 2016. One is that you'll begin to see how to make constructive changes at work or in your direction of life without turning everything upside down. The roller coaster atmosphere of the past few years will settle to a fair degree and you'll be able to push steadily ahead. Looking after your health will continue to be a priority for another year. This means learning where your limits are, not going in for excess of any sort including overwork, and adopting a sensible diet and exercise regime.rnHome and family relations will be happier and easier with chances to relax and be indulged. Asa a result you'll be more content within yourself. You'll be planning to expand your intimate surroundings since you'll want more space and the chance to entertain friends and relatives more often in your intimate surroundings. Close relationships will still be intense at times and a minor wrangle to see who gets the last word. If you can avoid confrontations and compromise where possible it will help.rnAfter February the Eclipse effect for six months will prompt you to raise your sights higher and broaden your horizons with more travel or adventure. The August Leo Eclipse will tempt you to throw money around to impress which wouldn't be wise. Instead take the chance to be pro-active about boosting your finances in the months ahead.rnIn the final three months your social self-confidence will soar and you'll be pushing old self-doubts to one side. Since your enthusiasm will soar you'll find there's more positive feedback at work as well.