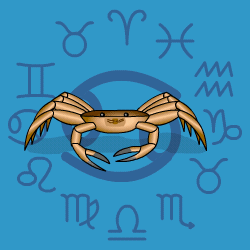 Cancer
June 22 - July 23
---
Today's Horoscope for Sunday February 25th
You will be passionately enthusiastic about almost everything which interests you today, whether it has romantic overtones or not. Your pet projects will get a little bit of a push, and friendships will be even more amiable than usual. If you have artistic and creative talents, get them out on display. Anything which feels too clashing, difficult or harassing will not suit your quiet mood. You want things to be soothed and smoothed and wound down. Your intuition will be working well, so trust your instincts.
The Weekly Outlook from 19th February
You will want more stimulating company over the next few weeks, more travel if you can manage, or some other way of broadening your horizons.rnVenus now in aspect to Neptune is a delightful, rather dreamy influence. Nothing hugely significant may happen but you will float your way along very amiably. Try not to get misled by people. You could get disillusioned and disappointed when you discover that they can't match up to your fantasies.
Your Monthly Horoscope for February
Bouncing with confidence and in social high spirits, you won't let any opportunity to shine in the spotlight slide by. But there will be times when you need to back off slightly to sort out confidential matters. Reaching better agreements and reorganising joint finances may be part of it. But you'll also be having heart-to-heart chats with close partners trying to see what adjustments need to be made to bring you both more fulfilment in the time ahead. This won't be a one-off effort, since you'll need to be persistent over coming months to be less self-sufficient and change the way you share, care, relate and co-operate. Gradually as the month wears on you'll be putting on a mischievous smile to entertain social mates. OK so there'll be a pile of chores to get through and you may be a touch perfectionist about doing everything correctly. Delegate more and accept what's possible not what's ideal. Looking after health and fitness will be crucial. In the final days you'll spread your wings and allow your enthusiasm to take flight. Following your dream will be important.
and Next Month's Horoscope for March
You'll be in the mood for fun and frivolity, kicking up your heels and finding new ways of introducing more adventure and stimulation into your life. If you can't travel instantly, you'll be holiday planning like mad. Not all your schemes will be practical so try to think through the consequences of what you decide to follow up on. The positive changes in you recently, with renewed self-confidence and joie de vivre does seem to have put certain strains on a close relationship. Try to take time out for frank and tactful chats, pushing criticism aside and aiming for constructive airing of grievances. Only by being realistic will you strengthen your bond. You'll be in demand at work and socially for your ideas and charm, finding invitations come in to special occasions where you can shine. In the final days you won't avoid arguments but you will be attracting a good deal of positive attention as well.
Year Ahead 2018
2018 will find your self-confidence soaring with social invites pouring in along with compliments. You'll be putting a higher value on yourself and finding that everyone else does as well. And your positive and enthusiastic approach will bring praise at work as well. Just don't go wild speculating or gambling, since nailing down your financial security is one of this year's priorities. Save, don't spend to impress; and be pro-active about taking the initiative to improve your long-term security.rnClose partnerships may be cooler. Try not to be critical or negative. Cherish loyalty above passion. It may be that work is interfering with relaxation time, but be grateful that you are rising up rather than the reverse.rnYour path will continue to be winding in terms of career and general life's direction but it'll rarely be boring. If you can be alert for changes and new opportunities, rather than sticking to old ways, it'll bring better results. You will be facing challenges where co-operation is concerned. Try not to be too controlling or indifferent to the needs of those close or at work.rnNeptune will bring you dreams, hunches and insights pointing you down a more spiritual road. OK at times your judgement may be off-beam and you'll have to be wary of relying on gurus or others having all the answers. But you'll be softening your attitudes as a result of your new-found beliefs.rnTravel may be muddled so make sure you always double-check all arrangements and have a Plan B up your sleeve. Late in the year you'll find an exuberant mood around work or the chores and be feeling healthier.