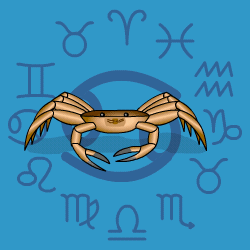 Cancer
June 22 - July 23
---
Today's Horoscope for Friday November 24th
Your emotional responses will be more intense for a couple of days. Strong minded people will be drawn towards you, but you need to tread softly, and not say everything you feel or think. You adore looking important, and will value your reputation highly. You are basically warm hearted and straightforward, and like to look generous, but you will be upset if you are not given full credit for your actions. You will be highly persuasive and charming, though perhaps just a touch self-centred.
The Weekly Outlook from 20th November
This week you will be seductively charming, appearing amiable and laid-back, even though you may have a hidden agenda. It isn't to say you won't have deep, positive kind of feelings, but Pluto also covers over so you'll have a rather benign smile on your face. From midweek you will be more practical than usual, keen to get details in the right place. You are less worried about getting praise, than in being helpful to loved ones.
Your Monthly Horoscope for November
Flirting, kicking up your heels, singing and dancing, you'll be into an entertaining few weeks where the spotlight of attention will be firmly on you. This is no time to be burying your head in chores, or hiding in a corner. You'll push self-doubt to one side and step out boldly, knowing that the more you value yourself, the more others will follow suit. Loved ones should be rallying round though at times the mood in the family may be heated. Certain projects will be on a go-slow and you may take your irritations home with you. Throw yourself into a spot of reorganising when you feel aggravated and that'll soak it up. A positive change of direction at work before midmonth will get your mind running along a new track. Then in the final days you'll continue playing hard but also be sorting out more practical matters with an eye to achieving your goals.
and Next Month's Horoscope for December
A sudden change of direction early on may put the cat amongst the pigeons at home. Try not to get irritable with family members since it won't be their doing. Just keep tidying and reorganising for a week and then you can head off for fun. Travel plans may be confused so make sure you double check everything before you set off. Then Mars moving into Scorpio from the 9th will zip up your energy and your passionate enthusiasm and you'll set sail to enjoy yourself for a few weeks ahead. You may come across as bossy towards loved ones since you'll want them to fit in with your wishes, so you may need to tone down your approach at times. Along the way you'll be working hard, paying attention to detail and being practical. In the final days you'll notice a shift in your closest relationship with an emphasis on loyalty rather than open affection. Don't be critical. Just value what is on offer.
2017 Year Ahead
Two factors will make 2017 an improvement on 2016. One is that you'll begin to see how to make constructive changes at work or in your direction of life without turning everything upside down. The roller coaster atmosphere of the past few years will settle to a fair degree and you'll be able to push steadily ahead. Looking after your health will continue to be a priority for another year. This means learning where your limits are, not going in for excess of any sort including overwork, and adopting a sensible diet and exercise regime.rnHome and family relations will be happier and easier with chances to relax and be indulged. Asa a result you'll be more content within yourself. You'll be planning to expand your intimate surroundings since you'll want more space and the chance to entertain friends and relatives more often in your intimate surroundings. Close relationships will still be intense at times and a minor wrangle to see who gets the last word. If you can avoid confrontations and compromise where possible it will help.rnAfter February the Eclipse effect for six months will prompt you to raise your sights higher and broaden your horizons with more travel or adventure. The August Leo Eclipse will tempt you to throw money around to impress which wouldn't be wise. Instead take the chance to be pro-active about boosting your finances in the months ahead.rnIn the final three months your social self-confidence will soar and you'll be pushing old self-doubts to one side. Since your enthusiasm will soar you'll find there's more positive feedback at work as well.