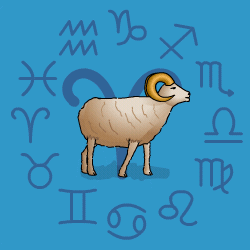 Aries
March 21 - April 20
---
Today's Horoscope for Sunday September 23rd
Blessed with tact and diplomacy, you should notice an improvement in your social life. Your charming manner and way of putting others at ease will attract compliments and invitations. Though trivial amusements may not be uppermost on your mind today for a short while it's just as well since they won't work well. If you try to be too cheerful, you'll end up feeling thwarted. Whereas if you try to be serious, you'll make the best of the Saturn influences around.
The Weekly Outlook from 17th September
If you are feeling slightly insecure you may try to prove yourself by doing something with too much bravado. If you try to look macho you could end up doing something none too sensible. You won't feel cautious, but a little restraint might be in order this week. You will want to walk your own road and on the wild side. Although you will be slightly reckless, it's not likely to send you flying off into doing anything too foolish.
Your Monthly Horoscope for September
Settling into a steady routine of chores and duty isn't quite your style, but you'll be pleased by the results of your labours. You'll stay on top of detail and be critical at times of mistakes. Since you'll be putting energy out, it'll be a time to up your keep fit regimes and eat sensibly. Getting better organised won't be a problem which will also save you draining your stamina by going the long way round. The affection of a close partner and the admiration of social mates will keep you bouncing until the 9th, after which you'll be keen to stick close to just one person. Your feelings will deepen considerably so you'll tend to magnify your likes and dislikes. By the 11th you'll be on a high, with a minor triumph to celebrate, knowing you're appreciated. Friends will be pushing you hard to sort out plans and be more adventurous but try not to commit yourself in haste to anything that will cost too much. Your finances will be up and down for a few days. After the 23rd you'll be socialising more and not as stuck to the grindstone.
and Next Month's Horoscope for October
Usually a fiery individualist you'll be keen to keep the support of close partners at home and at work for a few weeks. You'll be cooperative, fitting in with others' plans and putting yourself about with charm and tact. And you'll be throwing yourself energetically into team efforts and friendship activities. They'll be pushing you to sort out longer term plans and be offering good advice. There may be a few arguments along the way since everyone will have different ideas but it'll inspire you to make key decisions once you've settled on what makes sense to you. Your deeper feelings you'll be keeping to yourself, at times surprising yourself with the intensity of your emotional responses. Don't over react or become jealous if you don't get everything your own way initially. Be subtle and keep pushing. In the final days, you'll be focussing on confidential matters, financial and emotional, and digging your heels in until those close come to a fair compromise. Be on the alert for an unexpected turn of circumstances where cash is concerned. Jumping to conclusions and hasty decisions won't be wise.
Year Ahead 2018
Home, friends and romance are all areas highlighted by 2018's Solar Eclipses so will be your priority. Review, discuss and adjust what isn't suiting you any longer. Happily Jupiter moving through Scorpio will allow you to embrace change in a positive way, with beneficial results, emotionally and financially. Money will come in unexpectedly and you'll let your defences down to allow for more intimacy. Though towards midyear you'll find your finances move into a roller coaster phase, both up and down, so you'll need to budget sensibly.rnIn your career or community activities you may be weighed down by work and responsibilities so will be sticking to the straight and narrow. Everything you've pushed and prepared for should be bringing in a harvest. Though past mistakes may also surface to be sorted out.rnIn the first few months you'll be widening your circle of friends and sorting out longer term plans. With a major push from March onwards to move towards your goals and fulfil your ambitions. It'll feel like pushing boulders uphill at points but perseverance will win through.rnThen from midyear you'll want to slow down to focus on family and domestic matters and to liven up your social life. It won't be easy juggling close relationships and duties in the outside world. But needs must for a fulfilling life. From November you'll be aiming higher, keen to broaden your horizons and find time for adventures or more stimulating hobbies.