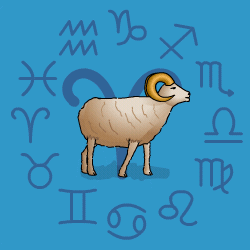 Aries
March 21 - April 20
---
Today's Horoscope for Tuesday December 12th
There could be the odd confrontation because you feel a little over-emotional. If you do stir up a problem, just don't go too far. You will not really want to see it through. You will start something and at the end of it all you wish you hadn't bothered. Maybe you are not being practical with your grand plans, but you can always sort out what is workable later on. This is the much more exciting stage of allowing your visions to flourish.
The Weekly Outlook from 11th December
The surprises around this week will help you to understand what you have never seen before about relationships. You know that now you want to do things in a new and different kind of way. You will be wanting to fit in for the sake of peace and quiet, so you will compromise if need be to mend fences. If there have been arguments, this is the time when you can put the right word in the right ear and suddenly everything calms itself down.
Your Monthly Horoscope for December
A lively start to the month will see you wanting to throw everything up in the air and march off to do your own thing. Just don't expect close partners to be quiet. They'll speak their minds forcefully and neither of you will be happy to compromise. Luckily by the 3rd Neptune will be around pouring soothing balm on agitated nerves and smoothing over rough edges. Luckily your adventurous spirit will be to the fore so you'll be exploring new social venues and mixing with the fun crowd when you can. Though in quiet moments after the 8th you'll be pushing hard behind the scenes trying to resolve highly personal and financial dilemmas. Don't expect quick or easy answers. Be persistent and flexible. A significant shift comes on the 20th when Saturn moves into Capricorn, its' first sign change in over two years. Until 2020 you'll be working harder, taking on more responsibilities and getting better organised. You'll be invited out to special social occasions in the final few days and be putting on a sophisticated and charming performance.
and Next Month's Horoscope for January
A combination of determination and positive thinking will create its own good fortune. Though lady luck will also throw a few generous presents your way as well in cash or in kind this month. You'll be working hard, taking the lead and facing a few challenges up to the 9th. But perseverance and grit will see you through. Avoid confrontations even if you think someone is acting unfairly or trying to control you. Be subtle, strategic and sidestep. Confidential dilemmas, financial and emotional, will slowly find an answer, mainly through your own persistence. You'll be pleased that you defended your corner and demanded a fair deal or better agreement with those close. In demand for your bright ideas and practical plans, you'll be talking non-stop after the 11th. Just don't get too critical if others aren't on your wavelength. Go your own way without rocking the boat too hard. By midmonth you'll have a satisfied smile on your face as one scheme works out to your advantage. Warm-hearted friends will rally round in the final days to make you feel popular.
2017 Year Ahead
There'll be more adventure around in 2017 to keep you bouncing, and much of the uncertainty of last year will be fading away. The tremendous upheavals of the past four years will also be calming down. You'll still be pushing determinedly to find a better direction for yourself in your career and life in general. And your wonderfully resilient rubber-ball quality will come handy when certain ideas or projects don't work and you leap into trying again with the next grand scheme. Close partners at work and at home will be there for you with support and high hopes. Their advice may veer to the over optimistic at times but they'll do your morale good. Any relationships which have past their sell-by date and where you don't see a future, will be quietly dropped with no fuss or regret. The Pisces Eclipse in late February is a hint to step back, gain perspective on the past and give yourself time to reflect. By August you'll be ready to promote yourself more vigorously. Not that you'll be a social wall flower. Since Venus in your own sign in February, March and May will surround you with admirers. In the final three months you'll be into a year-long phase of positive change, financially and emotionally. Money will come in with less effort from joint ventures, or unexpected wins, bonuses, inheritances. You'll be dropping your defences and moving closer to the important people in your life. Overall you'll have more confidence to push for what you want and mix the best of the old with the best of the new.