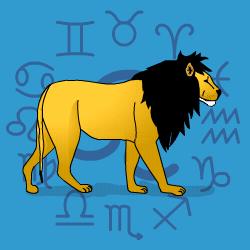 Leo
July 24 - August 23
---
Today's Horoscope for Sunday February 25th
Maybe you won't be too self-disciplined or very practical, but as long as you're not trying to get anything too solid and tedious done, the sparkling influences around should do you the world of good. There could be financial opportunities around, but if anything you are likely to overspend rather than be hoarding it up. You're more sensitive to the subtler aspects of the world than usual, so everything around feels dreamy, romantic. If it doesn't, you will want to disappear into that sweet world inside yourself.
The Weekly Outlook from 19th February
Into an very secretive phase, you will be concentrating on confidential matters, both financial and emotional. But also try to find time for the finer things of life. Listen to music, look at art. Aim for activities that are going to wind you down. Then you will leap back into the fray when you have to get going again. But in one particular project you could start off with all the best intentions but end up resentful because you feel unappreciated.
Your Monthly Horoscope for February
Your closest relationship will be the most important thing in your life. You'll want to share and co-operate more fully, not just this month but in the time ahead. The Solar Eclipse in your opposite sign hints that changes need to be made on both sides. Sliding back into being too independent won't be an option. Reaching out to make a meaningful connection will take and effort, and if you reckon it can't work, then you'll be doing some hard thinking. Your feelings will be more intense after the 10th, so you'll tend to magnify certain situations out of proportion. Try to moderate your approach and realise you may be misreading one dilemma. Boisterous Mars in Sagittarius will keep your energy and passionate enthusiasm high, and you'll be keen to get your own way. Try not to boss loved ones around since it'll backfire. Untypically secretive after the 18th, you'll be mulling over what really is of value to you and how you can transform your life for the better.
and Next Month's Horoscope for March
A Pisces Sun hidden in the deepest, most confidential area of your chart till the 20th will find you preoccupied with highly personal and secret matters. Being persistent but fair-minded will help you find solutions and better agreements, leaving you more secure, financially and emotionally, and giving close partners a sense that they also are more settled. Too much work and too many demands on your time and energy will need to be managed, since you can't do everything. Realise that your body has limits and that saying no once in a while isn't a sign of defeat. Looking after yourself physically will be even more important after mid month, so delegate wherever possible. Luckily your spirits will be high as you socialise with a fun crowd and allow your grander plans to flourish, in word if not in deed. In the final days you'll be broadening your horizons and aiming higher.
Year Ahead 2018
2018 has similar Eclipses in Leo and your opposite sign of Aquarius, as they did in 2017, so you will find yourself at a crossroads, where you have to make crucial judgements about what comes next. Sitting down to talk to close partners will help to make the adjustments needed for a fulfilling future, though from mid-year you'll be more independent-minded for a few months, since you'll know the decisions have to be yours, not anyone else's.rnLooking after health and fitness will be vital, since you may overload yourself with work. Learning where your limits are will teach you to pace yourself. Listening to your body does not come naturally to you as a Fire sign, but you won't be able to go-go-go constantly without feeling the effects.rnAdventurous travel will be on your mind, but if you are sitting still, you will still find excitement and stimulation in exploring new belief systems and ideas. And happily you will be able to relax comfortably at home and in your intimate surroundings, feeling more secure and contented within yourself.rnTaking care with finances will be important with Neptune hanging around, since not everyone around will give you reliable advice or indeed be entirely straightforward. Force yourself to double check and don't be gullible.rnNear the year end your social life will reboot into a more vibrant phase. You'll be stepping out boldly with renewed self-confidence to meet a favourable reception from everyone you meet.