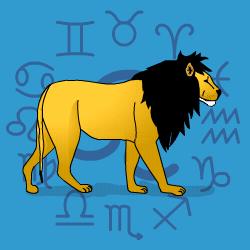 Leo
July 24 - August 23
---
Today's Horoscope for Tuesday December 12th
More than anything what you want is to be appreciated even applauded, so you will be hamming it up madly at times, but so charmingly everyone will clap even harder. Although on more serious matters you've really got to be clear in your own mind about the message you're trying to get across, since you may get scattered in a busy, busy time. You have too many loose ends flying around your head, too many people to chat to or visit.
The Weekly Outlook from 11th December
This week you will want to be involved in the world more than you have been doing recently. So aim to be involved in parties, around teams, at work and any sort of group exercise. There will be good feelings and quite a lot of self-indulgence. Sometimes you want to you fit just for the sake of fitting in, then you get cross with yourself because you feel you've not really been true to what you believe in.
Your Monthly Horoscope for December
Your mischievous sense of humour will keep social mates and loved ones entertained as you skip your way along into the party season. There'll be no shortage of invites or compliments. Try to hold back from outspoken opinions early on, since you could be a touch impulsive with truth-telling. And be cautious as you travel around. More haste, less speed. There could be muddles over money as well, so insist on seeing all the details before you commit yourself. Certain pet projects will be on a go slow after the 9th so you might as well soak up your energy by reorganising at home, though the family may not always take kindly to being swept around. In the final ten days you will want to pace yourself, realising that your physical energy has its limits. There'll be chores to cope with but you need to pay attention to health and fitness as well. Overeating and indulgence may be a minor hazard from the 25th.
and Next Month's Horoscope for January
Running around being helpful with a growing pile of chores, you may feel over burdened and will need to slow down. This phase of your life is about learning where your physical limits are. You won't avoid work and duty but you'll need to be sensible and not bite off more than you can chew. Luckily there'll be fun and relaxing moments at home with the family. You'll begin to feel rooted and settled in a way you haven't before. You will be reorganising like mad as well as indulging yourself. Unexpected news will come in from abroad or a distance away towards midmonth and you'll be pleased at what it says. Thereafter the love and affection of one special partner will give you a warm glow and you'll be in demand socially. Your energy and passionate enthusiasm will soar before the month finishes.
2017 Year Ahead
Your life will be filled with other people which is just the way you like it. A lively, varied everyday schedule will keep you on your toes, with plenty of enthusiastic mates around to chat to and visit. You'll be even more relaxed than usual when it comes to handing out your comments and be pleased at how persuasive you are being.rnTravel will be exciting or if you are in the one place you'll be opening your mind to intriguing new ideas and philosophies of living. You'll be eager for anything out of the ordinary and won't care if anyone thinks you're unconventional. In private moments you will be drawn towards strange, slightly mystical experiences.rnHave a care with joint finances since not everyone around will be reliable and you may be overly trusting. The February Pisces Eclipse will nudge you into altering the way you share, care and co-operate over cash or your intimate emotional life. It'll be worth making the effort though it won't always be easy.rnThe August Eclipse in your own sign will prompt you into making key decisions about your future path.rnYour health will need you to pay attention and get ailments seen to quickly. That way they won't give you problems. Not exerting yourself too strenuously will also help and certainly not getting into challenging, no-win discussions at work which will be draining.rnIt won't always be easy to relax as it once was socially with Saturn still in Sagittarius for another year. But from October you'll be able to put your feet up at home and indulge yourself there with easier family relationships to keep you smiling.