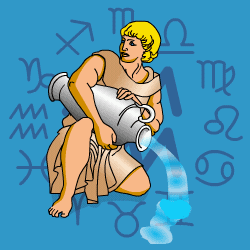 Aquarius
January 21 - February 19
---
Today's Horoscope for Tuesday December 12th
Helpful practical advice will put you on the right lines, though obviously the decision will be yours ultimately. Luckily it's a rather predictive kind of time at the moment. If you can look into the future and see where life is going to be taking you, then you can put your energy out very constructively. You want to see things in a much broader kind of way, to take the bird's eye view rather than being sunk in minutiae and detail.
The Weekly Outlook from 11th December
You may find some slower mates aren't doing very well because they can't keep up with you. But the important thing is that you suit yourself. It's not a good idea to settle down to doing what other people want you to do. Venus emphasised this week wants everything to be harmonious. So you'll be gliding over unpleasant edges, sliding round awkward situations and moving towards the people you really want to be around.
Your Monthly Horoscope for December
Known for your maverick streak, you may go slightly over the score early on with a few pithy comments out of exasperation at being hemmed in. You won't care what anyone thinks. But you'll need to put the brakes on fairly sharply since Neptune will be casting a mist of confusion around and not everything will be as it seems. You'll rely on a wide circle of good friends and team mates to give you sensible advice and stop you looking back over your shoulder. Your popularity will soar since you'll be able to put everyone around at their ease. From the 9th you'll be roaring ahead, keen to achieve your goals and ensure that others work every bit as hard as you do. You'll be laying down the law which may not always go down well, so try to sweep everyone up in your enthusiasm. A significant shift in attitude from the 20th will find you more inward looking. Both Saturn and the Sun move into the sign before yours, so you'll want to step back from too much rushing around, to recharge your batteries and take stock.
and Next Month's Horoscope for January
Powering ahead with great determination and confident that whatever you attempt will work out well, you'll be on the crest of a wave. At least as far as others are concerned. Though behind the scenes you will be puzzling over highly personal dilemmas and unclear how to sort them out. Try not to get so sunk in concerns that you can't see the wood for the trees. You will get a flash of enlightenment along the way which will make everything clear. Accept the praise and admiration coming your way as well-deserved and enjoy it. Even if you get scattered towards mid month you'll still have your wits about you and make the right choices. Then suddenly you'll step out into a fun phase, looking great, and keen to make waves. Everyone will sit up when you come into rooms since you'll be quite a presence.
2017 Year Ahead
After recent unsettled times, this could be your year for getting a grip. Your everyday schedule will still be helter skelter but you'll be more aware of the necessity for sorting out practical long term plans. Sitting down with older or more serious friends and taking sensible advice will keep you on the right track. Your social circle may be narrower than before but you'll know you can rely on the best mates who are around.rnJupiter in Libra for nine months will inspire you and boost your idealism. You'll want to find a dream or a vision that you can follow in the time ahead, which may include travelling further afield or opening your mind to new and exciting ideas. Your enthusiasm may run away with you at times so you won't always be realistic but by aiming high you'll get further than you might have done by being more cautious.rnJust give yourself time for private reflection since Pluto will keep pulling you down to examine what is really going on under the surface of your life. Try to be honest and own the darker feelings you have.rnThe February Solar Eclipse in Pisces will nudge you into getting your personal finances into better shape. Being pro-active will bring results, while throwing money around to impress which will be a temptation won't. By the August Leo Eclipse, you'll be turning your mind to your closest relationship, aware that being more adaptable will be vital to the development of good feelings between you.rnSuccess will come from October onwards in your career and community activities with admiration and appreciation coming your way.