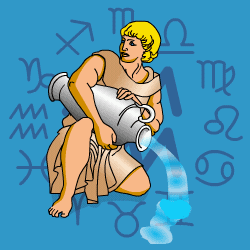 Aquarius
January 21 - February 19
---
Today's Horoscope for Sunday February 25th
Someone may be a little abrasive - and it could be you, briefly. Try to head for a comforting shoulder if you feel on edge or out of sorts. Leaping up and down will only make matters worse. Take a deep breath and think beautiful thoughts as you count up to a hundred. Luckily, Neptune now is a great healer, not in a dramatic way but by gently soothing. If you can connect to it, you'll not only feel physically better, you'll also have a deeper sense of purpose.
The Weekly Outlook from 19th February
This week put extra effort into getting the budget into order. You will be determined to earn more for a few weeks, or manage what you already have more sensibly. Though your spending is also likely to shoot up. Try not to put people on pedestals. You can become disappointed if you expect absolute miracles from them. If you can be realistic as well as forgiving then you could find one encounter turns out to be rather delightful
Your Monthly Horoscope for February
A key month for you with not only your birthday Sun in place but also a Solar Eclipse in your own sign says you need to get cracking with major decisions about your life ahead. This is a turning point for you so the path you choose from now on needs to be carefully thought through, weighing up all the different options available. You'll be more independent-minded for a few months since you'll know it's your life and should be your choices. But it doesn't mean you'll be on your own. You'll make rooms light up when you bounce in and others will appreciate your exuberance. Dynamic friends will keep you sorting out longer term plans and be throwing their energy behind your pet projects. You won't always find it easy to co-operate but their support will help, so bear with them. If there's a cash setback after mid-month, just sort out the muddle and resolve to be more on top of practicalities thereafter. Though curbing the temptation to spend on indulgences and treats may not be easy.
and Next Month's Horoscope for March
A muddle over money early on shouldn't distract you from your main aim this month which is to get your finances knocked into better shape. It may even spur you on to be more attentive to details; and curbing generosity which comes at the expense of your own longer-term security. You'll be relishing the praise which comes your way with several more small triumphs to add to your tally, and will want to treat yourself. Just try to balance spending with saving and you'll feel better. Dynamic friends and team mates will be urging you to sort out your plans and will keep you on the right track, especially when your wilder schemes threaten to get out of hand. You'll find gestures of affection and kindness come your way from unexpected people. It may not be grand passion but it'll lift your mood. Try to step back after midmonth and let events take their course. One pet project will drag anchor for a while, so be patient. Use the time to rethink your approach, unpick mistakes and in a few weeks you'll be ready to roll.
Year Ahead 2018
What do you want out of your life and your closest relationship? Those are your key questions through 2018 with the Eclipses in your own and your opposite sign. You'll start in a more independent frame of mind, making up your own mind what your priorities are. Though that will gradually change through mid year as you work out how to improve your emotional life. At that point being less self-sufficient and more adaptable will be the key to greater fulfilment. You can't be an island unto yourself.rnJupiter at your midheaven will bring success your way, so whatever you touch at work or in your community activities will work out faster and better than you expect. You'll glow with pleasure at the appreciation coming your way.rnHaving to juggle the demands of an extra-busy everyday schedule will scramble your brain at times, so stay focussed, make out to-do lists and take every chance you can get to wind down and de-stress. Money muddles may occur since you'll overlook important details or leave it to someone else. Going on a wing and a prayer usually doesn't work well where finances are concerned. So be sensible, better organised and not overly generous.rnKeeping an eye on health and fitness will also be an idea from July onwards, since you'll need to boost your stamina however you can. And not overload yourself. If you can reach better agreements with close partners then they can help take the load off your shoulders.rnLate in the year a wider circle of fun and enthusiastic friends will brighten your spirits.